Rafael Videira
Part-Time Faculty – String Pedagogy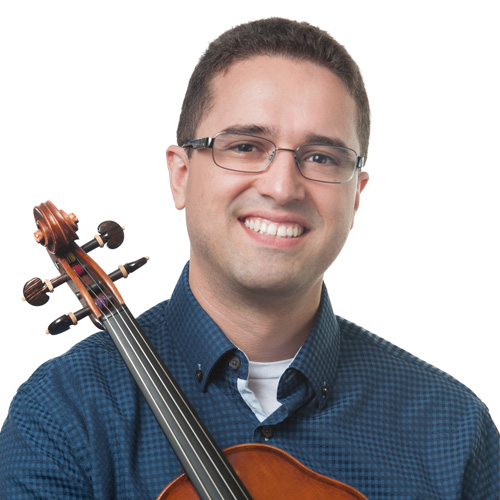 Rafael Videira
Part-Time Faculty
String Pedagogy
DMA, University of Oregon
Hokona Hall Room 316
Curriculum Vitae
Rafael Videira, DMA, has a rich and diverse career as a teacher, performer, and conductor. He's taught and performed in the USA, Mexico, Brazil, and Germany.
Dr. Videira has taught students of all levels in violin and viola, from beginners to advanced players. His students have achieved significant success, winning competitions and gaining admission to prestigious institutions like The Manhattan School of Music, Boston Conservatory at Berklee, Jacobs School of Music (University of Indiana), and The Hartt School (University of Hartford).
Currently, he serves as the String Pedagogy Faculty at the University of New Mexico, directs the orchestras at Manzano High School, and is an instructor at the Albuquerque Youth Symphony's Elementary Strings Project. He's also involved in teaching Suzuki Group Classes and private lessons at the UNM Strings Lab School. Before this, he taught and conducted at various institutions in Connecticut and Oregon.
In 2018, Dr. Videira was honored with the Suzuki Association of the America's Certificate of Achievement, recognizing his dedication to teaching excellence within the Suzuki philosophy.
As a performer, he's played under renowned conductors (such as Kurt Masur and Helmuth Rilling) and participated in international orchestral performances in Germany. In 2022, he was invited by the American Viola Society to feature in its album promoting music by underrepresented composers (just released in October, 2023).
Dr. Videira holds a Doctoral degree in viola performance and pedagogy from the University of Oregon and a Masters degree in performance from the University of New Mexico. He has received training in the Suzuki method and other pedagogical concepts from various experts in the field, such as Susan Kempter, Dr. Susan Baer, Dr. Robert Duke, Teri Einfeldt, Christie Felsing, Dr. Robert Gillespie, John Kendall, Lynn McCall, William Preucil, Sr., and Elizabeth Stuen-Walker.