Percussion
Our Program Concentrations
Once you experience the program at UNM you will be convinced it offers you one of the finest opportunities for your education and career.
Our program of study provides every student a 21st century comprehensive percussion education. Focusing on experiential learning and performance in contemporary solo and chamber music performance, orchestral percussion, jazz, pop, and contemporary music, marimba ensemble (contemporary and tradition Mexican), and folkloric percussion (West and East African, Middle Eastern, frame drumming, steel band, Brazilian samba, and Afro-Cuban) students develop the skills needed for a successful career in music performance and education.
In addition to solo and chamber percussion performance, you will have the opportunity to perform in outstanding large concert ensembles, marching band, jazz ensembles, jazz combos, and contemporary chamber music ensembles.
I believe it's important for students to perform in their community, whether it's a full-length formal concert at a high school or university, or a short impromptu performance at a local coffee shop. With this in mind we regularly set up events off campus for students to perform and feel like they are an important and vital part of their community.
The percussion studio at UNM will typically have 14-16 percussion majors enrolled, all of whom study with professor Scott Ney. The percussion facilities, as well as the collection of percussion instruments at UNM is the largest in the state, one of the finest in the Southwest, and competitive with many of the finest programs across the country. Thirteen rooms are designated to percussion, including three studios, five practice rooms, and five storage areas.
Mo Roberts - Drumset
Mo Roberts's focused and "in-the-pocket" drumming has established him as one of the top go-to drummers on the New York City music scene for the past 25 years. A graduate of the Interlochen Arts Academy, Roberts attended the Berklee College of Music and continued his percussion studies in New York with Peter Erskine, Gary Chester, Henry Adler and Chris Lamb (NY Philharmonic).
Prior to landing in New Mexico in 2013, he spent 4 years on the road with Grammy-nominated blues vocalist Shemekia Copeland, headlining blues festivals and concert venues around the world and touring regularly with blues luminaries Buddy Guy, Robert Cray, and James Cotton. Before joining Shemekia, Roberts freelanced in NYC, playing on Broadway (Little Shop of Horrors, Smokey Joe's Café), with the Mark Pender Band (from the Conan O'Brian Show), the Mike Longo Big Band (Dizzy Gillespie alumnus), and toured with Jennifer Holiday (star of "Dreamgirls"), Freddie Jackson, the Boys Choir of Harlem, and the Big Apple Circus.
He was the house drummer for the True Groove record label, playing on a number of CD's from 2009-2012. Other recording credits include the Meridian Arts Ensemble (Channel Classics Recordings), songwriter Michael Tolcher on Octone Records (splitting drum duties with ?uestlove), as well as a variety of independent artists.
Mo can be seen and heard regularly in Albuquerque and Santa Fe, playing with some of the best area musicians including Hilary Smith, Doug Lawrence, Glenn Kostur, Bobby Shew, Chris Dracup, and the Fredrick-Breuer Big Band.
Douglas Cardwell - Timpani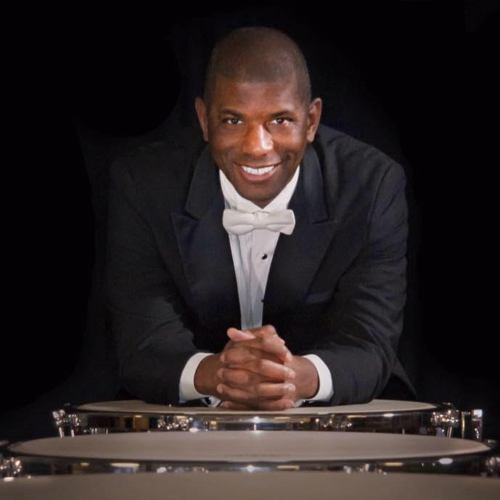 Douglas currently holds the Principal Timpani Chair with the New Mexico Philharmonic. He joined the Philharmonic after performing with the Detroit Symphony Orchestra. He is also the Principal Timpanist of the National Sphinx Orchestra. Along with these appointments he performs with Santa Fe Pro Musica, Performance Santa Fe, and Chatter Chamber group.
Mr. Cardwell was a Fellowship recipient with the Detroit Symphony Orchestra, and performed with DSO including recording and touring Eastern and Western Europe. Cardwell received a Bachelor of Music Education degree from James Madison University. He performed with the Houston Symphony Orchestra on an Orchestral Internship earning him a full tuition scholarship to Rice University where he received a Master of Music Performance degree from the Shepherd School of Music. Other credits include the Houston Grand Opera, the Spoleto Festival Orchestra in Italy and an international tour with the American-Russian Orchestra.
While living in the Detroit area he was a member of "Embaire" which performs West African and Western percussion ensemble music. Their work focused on the drumming of Ghana and Uganda, as well as, compositions for the Ugandan xylophone, from which the ensemble takes its name.
Founder of the jazz quartet, After Five, Cardwell performs Jazz, R&B, & Funk with several groups at local venues when not teaching privately at his percussion studio in Albuquerque.
Douglas feels, "Being able to express my passion for music on stage and educationally is a big gift I've been handed, and for that, I'm so very grateful!"
Douglas Cardwell is a Pearl/Adams Concert Artist and performs on Adams Philharmonic Dresden Classic Timpani supported in part by a Sphinx MPower Artist grant. Cardwell is also a REMO concert sponsored Artist and JG Percussion sponsored Artist.
Visit http://www.DCPercussion.com to view new timpani mallets – The DC Series.
Jeff Cornelius - Orchestral Percussion
Now principal percussionist with the New Mexico Philharmonic, Jeff Cornelius had played principal percussion with the New Mexico Symphony Orchestra since 1986. He received a Bachelor of Music degree from the Manhattan School of Music and completed his Master of Music degree at the College Conservatory of Music at the University of Cincinnati. Prior to joining the New Mexico Symphony, Mr. Cornelius played with numerous orchestras including the Cincinnati Symphony Orchestra, The Canton Symphony, the Colorado Philharmonic, the Toledo Symphony and an assortment of other summer festivals and ensembles. Since joining the NMSO, Mr. Cornelius has also performed with The Santa Fe Opera Orchestra and the Santa Fe Symphony as well as several chamber venues including Taos Chamber Music Festival, Music at Angel Fire and Santa Fe Chamber Music Festival where he appears on Stereophile's recording of Darius Milhaud's La création du monde. He is the winner of the NMSO first annual concerto competition in 2007.
Watch: UNM Percussion Ensemble Highlight Reel
"The two years I spent in the percussion studio at UNM, while working on my Masters, were profoundly enriching. I felt the spectrum of experiences available to me coupled with the guidance and encouragement of faculty helped foster a strong sense of artistic introspection."
[eventon_slider slider_type='carousel' lan='L1' orderby='ASC' date_out='5' date_in='4 date_range='future' id='slider_3' open_type='originalL' style='b' ef='all']