Percussion
Our Program Concentrations
Once you experience the program at UNM you will be convinced it offers you one of the finest opportunities for your education and career.
Our program of study provides every student with a 21st-century comprehensive percussion education. Focusing on experiential learning and performance in contemporary solo and chamber music performance, orchestral percussion, jazz, pop, and contemporary music, marimba ensemble (contemporary and traditional Mexican), and folkloric percussion (West and East African, Middle Eastern, frame drumming, steel band, Brazilian samba, and Afro-Cuban) students develop the skills needed for a successful career in music performance and education.
In addition to solo and chamber percussion performance, you will have the opportunity to perform in outstanding large concert ensembles, marching band, jazz ensembles, jazz combos, and contemporary chamber music ensembles.
I believe it's important for students to perform in their community, whether it's a full-length formal concert at a high school or university or a short impromptu performance at a local coffee shop. With this in mind, we regularly set up events off-campus for students to perform and feel like they are an important and vital part of their community.
The percussion studio at UNM will typically have 14-16 percussion majors enrolled, all of whom study with professor Scott Ney. The percussion facilities, as well as the collection of percussion instruments at UNM is the largest in the state, one of the finest in the Southwest, and competitive with many of the finest programs across the country. Thirteen rooms are designated to percussion, including three studios, five practice rooms, and five storage areas.
Mark Clark - Drumset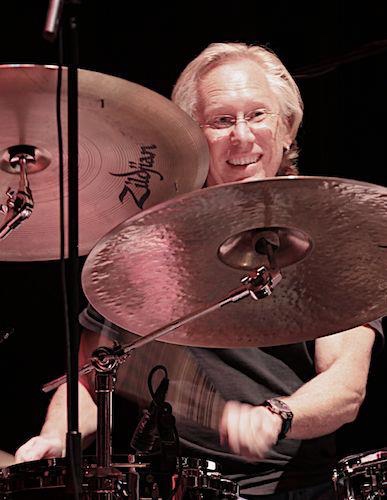 Mark has been a professional musician (in the workforce), since the age of 12. Raised in Santa Fe, NM, he had the opportunity to play a wide variety of musical styles. Older musicians took Mark under their wings and brought him up in the old school tradition (sink or swim). At 17 he left Santa Fe for a road gig, finishing high school through a correspondence course. When that tour ended he moved to Dallas, TX working the club circuit, then moved to Boston, where he attended the BERKLEE SCHOOL OF MUSIC for two years. Next, job opportunities brought Mark to Los Angeles where he worked as a free-lance session/club musician while attending the L.A. JAZZ WORKSHOP. While in Southern California Mark joined the UNITED STATES AIR FORCE BAND of THE GOLDEN WEST.
After four years of touring with the Air Force Band, Sony/Epic recording artist, OTTMAR LIEBERT hired Mark as a percussionist. Mark stayed with that band for nine years, recording and touring the world. During this same time period, Club de Musique recording artist JONO MANSON and members of BLUES TRAVELER formed a band called HIGH PLAINS DRIFTER, taking Mark as the Drummer. This group toured the states promoting their A&M release "ALMOST HOME". THE JONO MANSON BAND also toured with Blues Traveler as a regular act on THE HORDE TOUR, plus had featured songs in the movies The Postman, Eight Days a Week & King Pin.
Mark can be heard on the debut of John Popper & The Duskray Troubadours cd, an EP with Crystal Bowersox (American Idol), CAT STEVENS (YUSUF ISLAM) cd "The Road Singer." This monumental recording features a duet with PAUL McCARTNEY called "Boots and Sand" plus duets with CHRIS ISAAKS and MICHELLE BRANCH. Mark's drumming and percussion work are featured on JONO MANSON's new CD. The project is entitled "Silver Moon" and it features WARREN HAYNES (from the Allman Brothers), and also a duet with JOAN OSBORNE. Mark played drums and percussion on MAX HIGHSTEIN's new record "Gratitunes" which recently won two Global Music Awards. Mark plays percussion on a new record entitled "Electric" by JON GAGAN, bassist from Ottmar Liebert's band.
Living in Albuquerque, New Mexico, Mark is the drummer with R&B sensation HILLARY SMITH, the Latin rock group MANZANARES, JIMMY STADLER, and continues to record and tour with JONO MANSON. Mark is the Jazz drum set instructor at the University of New Mexico, a private instructor at the New Mexico School of Music, Percussion Ensemble Director at United World College and he is a private music instructor at the Candyman Music store in Santa Fe. Mark also is a GUEST CLINICIAN/ENDORSER for THE ZILDJIAN CYMBAL CO./VIC FIRTH DRUMSTICKS/AQUARIAN DRUM HEADS, and THE LP MUSIC GROUP (LATIN PERCUSSION).
Mark has recorded or performed with: The United States Air Force Band of The Golden West, CAT STEVENS (YUSUF ISLAM), JAMES TAYLOR/BEN TAYLOR, BO-DIDDLEY, KIP WINGER, BOB WEIR (from the Grateful Dead), NOEL REDDING (from the Jimi Hendrix Experience), TAJ MAHAL, WARREN HAYNES, (from the Allman Bros/Government Mule). Blues Traveler members; JOHN POPPER, BOBBY SHEHAN, CHAN KINCHLA. ERIC SHENKMAN (from The Spin Doctors), JONO MANSON, OTTMAR LIEBERT, DAN FOGELBERG, KENNY PASSARELLI, (from Elton John's band), HANNI NASIR, THE SEAN HEALAN BAND, and many others.
Douglas Cardwell - Timpani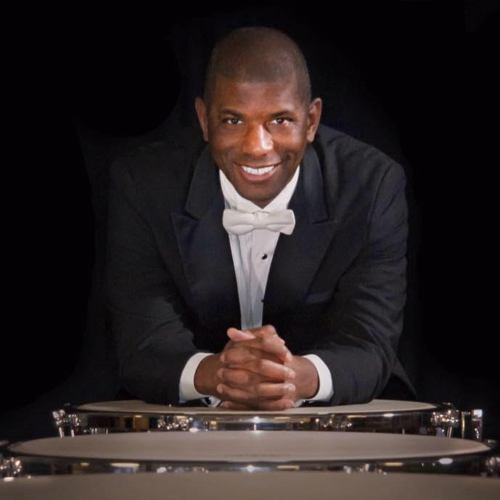 Douglas currently holds the Principal Timpani Chair with the New Mexico Philharmonic. He joined the Philharmonic after performing with the Detroit Symphony Orchestra. He is also the Principal Timpanist of the National Sphinx Orchestra. Along with these appointments he performs with Santa Fe Pro Musica, Performance Santa Fe, and Chatter Chamber group.
Mr. Cardwell was a Fellowship recipient with the Detroit Symphony Orchestra, and performed with DSO including recording and touring Eastern and Western Europe. Cardwell received a Bachelor of Music Education degree from James Madison University. He performed with the Houston Symphony Orchestra on an Orchestral Internship earning him a full tuition scholarship to Rice University where he received a Master of Music Performance degree from the Shepherd School of Music. Other credits include the Houston Grand Opera, the Spoleto Festival Orchestra in Italy and an international tour with the American-Russian Orchestra.
While living in the Detroit area he was a member of "Embaire" which performs West African and Western percussion ensemble music. Their work focused on the drumming of Ghana and Uganda, as well as, compositions for the Ugandan xylophone, from which the ensemble takes its name.
Founder of the jazz quartet, After Five, Cardwell performs Jazz, R&B, & Funk with several groups at local venues when not teaching privately at his percussion studio in Albuquerque.
Douglas feels, "Being able to express my passion for music on stage and educationally is a big gift I've been handed, and for that, I'm so very grateful!"
Douglas Cardwell is a Pearl/Adams Concert Artist and performs on Adams Philharmonic Dresden Classic Timpani supported in part by a Sphinx MPower Artist grant. Cardwell is also a REMO concert sponsored Artist and JG Percussion sponsored Artist.
Visit http://www.DCPercussion.com to view new timpani mallets – The DC Series.
Jeff Cornelius - Orchestral Percussion
Now principal percussionist with the New Mexico Philharmonic, Jeff Cornelius had played principal percussion with the New Mexico Symphony Orchestra since 1986. He received a Bachelor of Music degree from the Manhattan School of Music and completed his Master of Music degree at the College Conservatory of Music at the University of Cincinnati. Prior to joining the New Mexico Symphony, Mr. Cornelius played with numerous orchestras including the Cincinnati Symphony Orchestra, The Canton Symphony, the Colorado Philharmonic, the Toledo Symphony and an assortment of other summer festivals and ensembles. Since joining the NMSO, Mr. Cornelius has also performed with The Santa Fe Opera Orchestra and the Santa Fe Symphony as well as several chamber venues including Taos Chamber Music Festival, Music at Angel Fire and Santa Fe Chamber Music Festival where he appears on Stereophile's recording of Darius Milhaud's La création du monde. He is the winner of the NMSO first annual concerto competition in 2007.
Watch: UNM Percussion Ensemble Highlight Reel
"The two years I spent in the percussion studio at UNM, while working on my Masters, were profoundly enriching. I felt the spectrum of experiences available to me coupled with the guidance and encouragement of faculty helped foster a strong sense of artistic introspection."