Summer Music Institute
Summer 2023
The UNM artist string faculty are pleased to present the 2023 UNM Summer Music Institute for accomplished collegiate and high school musicians as well as young professional players. Sunday JUNE 11 through Saturday June 17. Welcoming auditions from advanced string instrumentalists ages 15-25.
Our Mission
Artistic
The primary mission of the UNM Summer Music Institute is to offer student musicians masterful teaching by UNM faculty and UNMSMI guest artists who are internationally recognized as both performers and teachers.
To Serve our community and region by presenting outstanding performances in string chamber music.
To Raise awareness of the excellence of the UNM string programs both locally and regionally.
Educational
To teach the importance of chamber music through master classes, chamber music instruction, chamber orchestra, concert participation, and concert attendance.
To offer the most advanced NM high school students a chance to work with UNM faculty and guest artists as coaches/mentors/collaborators.
Outreach
To provide access to all UNMSMI events performances free of charge as a gift to our NM community.
To engage younger audiences and families through excellent and exciting performances by gifted young musicians.
To engage with the greater Albuquerque community through a unique partnership with the UNM Hospital and UNM Arts-in-Medicine program.
To share the excellence of our UNM string program with musicians from across the United States and abroad.
This exciting festival takes place on the beautiful University of New Mexico campus from June 11 to June 17 and provides participants with intense daily musical interaction and expert guidance from world-class faculty. 
Participants will be immersed in daily chamber music rehearsals and coaching, daily instrumental masterclasses, a solo competition (featuring $2000 in prizes) student and faculty recitals, outreach events, multiple performance opportunities, special topic lectures, and more!
Safe and comfortable housing available in campus dormitories for an extra fee.
Daily complimentary light breakfasts provided. Some dinners offered during special evening events.
UNMSMI musicians must be between the ages of 15 and 25.  Exceptions to this age range can be requested on a case by case basis.
Tuition and Registration fees:
$50 registration fee applicable to all participants/nonrefundable
$200 UNMSMI tuition fee **
$150 tuition fee for Bass Intensive
All fees are due upon notification of acceptance.
**Many full tuition fellowships are available for students who are currently attending college music programs. Priority given to those traveling from the farthest distance to attend.
AUDITION INFORMATION
(DEADLINE APRIL 15, 2023)
RECORDED AUDITIONS: All applicants must submit an uploaded video link, 5 to 10 minutes of repertoire, including at least one movement from the solo works of J.S. Bach and the exposition of a concerto (memorization/ accompaniment not required) or other solo or accompanied work. Audio links are not acceptable, audition must be in video format with good quality audio component.
Send a link to kfred@unm.edu by April 15 (midnight).
There is no application fee. Please include the following information in the body of your email:
your date of birth
current institution of study and /or current teacher
current residence (state, country)
recent chamber music repertoire studied/performed
APPLICANTS WILL BE NOTIFIED OF ACCEPTANCE STATUS BY APRIL 20.
ALL TUITION, FEES (AND HOUSING COSTS if applicable) DUE BY APRIL 30.
Detailed Registration and Scholarship Information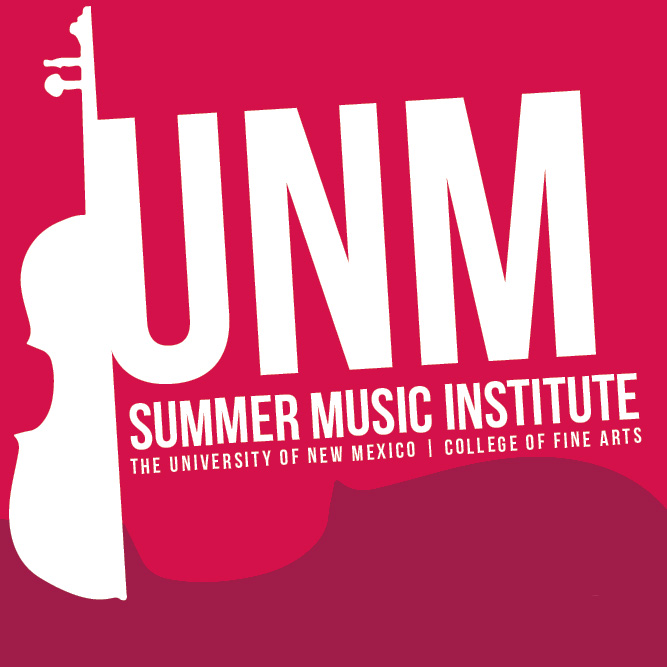 About our Faculty
Laura Tait Chang, violin/viola
Christoph Wagner, cello
Event Schedule
June 11 – June 17 : All events free and open to public
June 11 – June 17 : All events free and open to public
June 11: 5 pm UNMSMI faculty Opening Night performance, Keller Hall UNM (note time change!) 
June 13: 7pm Solo Competition Finalist Recital, Robertson and Sons Violin Shop Recital Hall (3201 Carlisle Blvd NE)
June 16: 7pm Chamber Music Performance, Historic San Miguel Chapel (401 Old Santa Fe Trail, Santa Fe)
June 17: noontime Children/ Family Keller Hall UNM
June 17: 3pm Chamber Music Finale concert , Keller Hall
June 17: 7pm Chamber Orchestra Gala Performance, Keller Hall (reception to follow)