Summer Music Institute
Summer 2020
The UNM artist string faculty are pleased to present the 

2020

 UNM Summer Music Institute for accomplished collegiate and high school musicians as well as young professional players.

 

Saturday, May 23 through Saturday, May 30.
Our Mission
Artistic
The primary mission of the UNM Summer Music Institute is to serve our community and region by presenting outstanding performances and showcasing masterful teaching by our UNM faculty and UNMSMI guest artists 
To present a variety of internationally recognized musicians to our audiences and students as performers and teachers.
Raise awareness of the excellence of our  UNM string program  with musicians from across the United States and abroad.
Educational
To teach the importance of chamber music through master classes, chamber music instruction, chamber orchestra, concert participation, and concert attendance
To offer the most advanced NM high school students a chance to work with UNM faculty and guest artists as coaches/mentors/collaborators
Outreach
To provide access to all UNMSMI events performances free of charge as a gift to our NM community. 
To engage younger audiences and families through special youth concerts.
To inspire NM community member musicians through collaborative performing opportunities.
To engage with the greater Albuquerque community through a unique partnership with the UNM Hospital and UNM Arts-in-Medicine program.
To share the excellence of our UNM string program with musicians from across the United States and abroad.
This exciting festival takes place on the beautiful University of New Mexico campus from Saturday, May 23 to Saturday, May 30 and provides participants with intense daily musical interaction and expert guidance from world-class faculty and special guest artists.
Participants will be immersed in daily chamber music rehearsals and coaching, daily instrumental masterclasses, a solo competition featuring $2500+ in prizes, student and faculty recitals, outreach events, performance opportunities in Albuquerque and Santa Fe, special topic lectures, and more!
Safe and comfortable housing available in campus dormitories ($275 for up to 9 nights lodging)
Daily complimentary light breakfasts and some lunch/ dinners provided.
Most UNMSMI musicians are between the ages of 16 and 25.  Exceptions to this age range can be requested on a case by case basis.
Registration fee:
$85 registration fee required of all participants
Tuition: 
Pre-college participants (under age 18)-$395
Collegiate participants and young artists (18 years and older) -$195
**Many full and partial scholarships are available; priority given to students traveling the longest distance to attend.
AUDITION INFORMATION (DEADLINE MARCH 15, 2020)
RECORDED AUDITIONS: All applicants must submit an uploaded video link,  5 to 10 minutes of repertoire, including at least one movement from the solo works of J.S. Bach and the exposition of a concerto (memorization/ accompaniment not required). Audio links are not acceptable, audition must be in video format with good quality audio component.
Send a link to carmelo@unm.edu by March 15 (midnight). 
 There is no application fee. Please include the following information in your email:
your date of birth
current institution of study and current teacher, if applicable
current residence (state, country)
list of recent chamber music repertoire studied/performed
APPLICANTS WILL BE NOTIFIED OF ACCEPTANCE AND SCHOLARSHIP STATUS BY APRIL 10. 
ALL TUITION, FEES AND HOUSING COSTS(optional)  DUE BY APRIL 20.
Detailed Registration and Scholarship Information
The UNM Summer Music Institute is pleased to announce that due to generous support from UNM and community donors, many full and partial scholarships are available to the most highly qualified applicants as determined by competitive audition and demonstrated need.
Note to high school students: this is an intense professional training opportunity in string chamber music. Please apply only if your private teacher feels that you are ready to prepare and perform complete chamber music movements or works within a one week period. If your current repertoire includes concertos, sonatas, technical etudes and three octave scales and arpeggios, you should be adequately prepared for the demands of this program.
All participants will be assigned to chamber groups consisting of 2-8 players . These groups will receive daily coaching by UNMSMI faculty and guest artists. All students will be given the opportunity to perform in at least one masterclass for their specific instrument. Private lessons may be arranged individually with faculty members only if time allows, and will require additional payment. Upon arrival, all students will audition for seating/ placement in chamber orchestra repertoire. Our chamber orchestra is generally conductorless and is led by faculty artists. Players rotate throughout the concert repertoire and there may be solo opportunities. Most players rehearse about one hour per day in orchestra. 
SOLO COMPETITION: All full participants are eligible to participate in the UNMSMI Robertson and Sons Solo Competition. Required repertoire will consist of at least ONE movement from the solo works of J.S. Bach (transcriptions allowed) and at least ONE contrasting solo work or movement from a different composer;  8 to 12 total minutes of performance time including any repeats. Memorization is required. Single or multiple movements of works may be performed depending on length. All works performed must be originally written for solo instrument (without accompaniment) . 3-5 Finalists will be chosen to perform in a public recital with award ceremony to follow. Previous first place winners are ineligible to compete. $2500+ in cash and prizes sponsored by Robertson and Sons Violin Shop.
HOUSING: Convenient and affordable housing is available at UNM dormitories. The Institute offers a limited number of  partial housing scholarships (priority given to students traveling the greatest distance to attend). Please contact kfred@unm.edu for more information regarding housing during the Institute.
Continental breakfast and  one additional meal (either lunch or dinner) is provided each day by UNMSMI . There are many affordable eating establishments located on campus  and within a very short walk from the music building. Please budget at least $100 to cover any meals you must purchase while in Albuquerque.
Tuition and Fees: ALL PARTICIPANTS must pay a non-refundable registration fee of $85.
UNMSMI tuition and fees:
OPTION 1: $85 (registration fee only )
OPTION 2: $85 + $95 (registration fee, + collegiate with scholarship) = $180
OPTION 3: $85 + $195 (registration fee + collegiate tuition or p.c. scholarship) = $280
OPTION 4: $85 + $395 (registration fee and pre-college tuition) = $480
OPTION 5: $275 (housing, single occupancy up to 9 nights)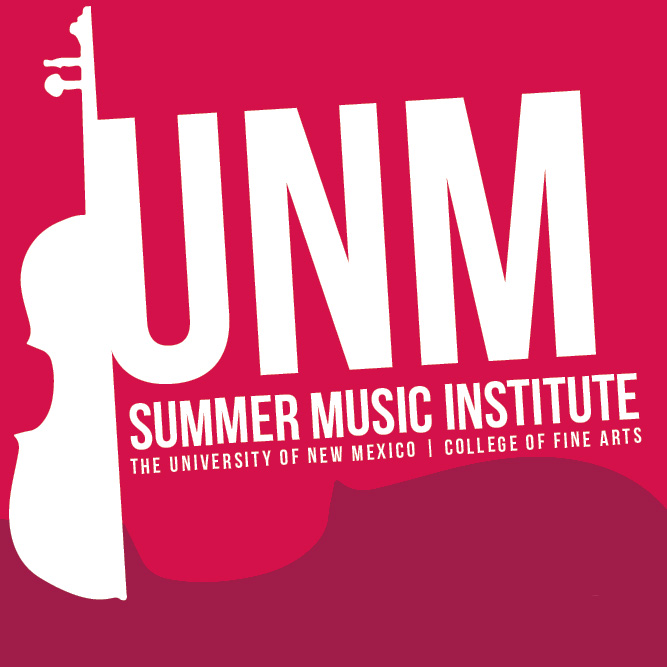 Event Schedule
May 23 – May 30
May 23: 3 pm opening faculty concert
May 24: 7 pm Robertson and Sons solo recital competition finals
May 28: Performance in Santa Fe, Location TBD
May 29: 7 pm Chamber music extravaganza Keller Hall UNM
May 30: noontime family concert
May 30: 6 pm Chamber orchestra gala performance