Pamela Viktoria Pyle
Associate Professor of Piano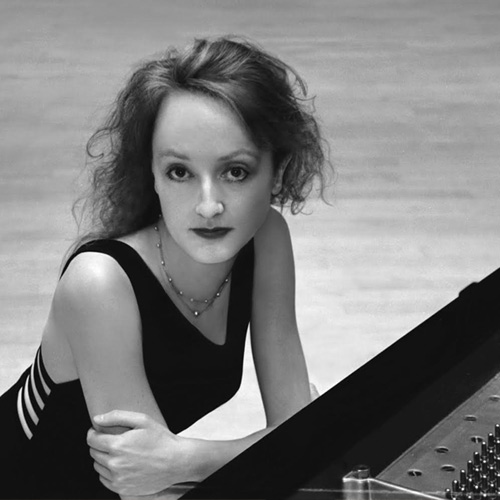 Pamela Viktoria Pyle
Associate Professor of Piano
M.M., The Juilliard School
pvpyle@unm.edu
(505)277-5145
Center for the Arts Room 2114
Pamela Viktoria Pyle has been recognized for her interpretations of the chamber music literature since Dorothy DeLay first engaged her at The Juilliard School. For more than a decade, she served as a principal pianist in the studios of Miss DeLay and then Itzhak Perlman. This immersion in the piano and string repertoires led to collaborations with members of the Juilliard, American, Ying and Mendelssohn String Quartets, including Joel Smirnoff, Joel Krosnick and Daniel Avshalomov, as well as other soloists such as Robert McDuffie, Sarah Chang, Alan Harris and the Norwegian soprano Anne-Lise Berntsen. Ms. Pyle's connection to the studio of Dorothy DeLay continues in recent concert appearances with many of her former students including Brian Lewis, Ittai Shapira and Frank Almond.
As an award-winning soloist and chamber recitalist, Ms. Pyle has performed throughout the United States, Europe, Asia and Brazil, at venues such as Carnegie Recital Hall, Alice Tully Hall, Jordan Hall and Wolftrap and at events such as the Lincoln Center Great Performers Series and the Casals Series in Puerto Rico. Ms. Pyle is regularly chosen as the pianist for nationally recognized summer music institutes, including the Starling-DeLay Symposium on
Violin Studies at The Juilliard School, the Brian Lewis Young Artist Program in Ottawa, Kansas, the Robert McDuffie Fall Festival of Strings at Mercer University in Macon, Georgia, and the Summit Music Festival in New York. During the summer, she has also been a regular performer at the Aspen Music Festival. Recent appearances include performances with Ida Kavafian, Steven Tenenbom, and Peter Wiley at the Music from Angel Fire Festival in venues
throughout northern New Mexico. 
Ms. Pyle is currently Professor of Piano and Collaborative Piano at the University of New Mexico, where she recently had the great pleasure of performing on the Provost's Distinguished Professor Lecture and Performance Series with Juilliard friends, Ronald Copes, Joseph Lin, Phillipe Quint, Daniel Avshalomov, and Guillermo Figueroa. She is the Artistic Director of the New Mexico Chamber Music Festival, which debuted in 2013 and brings young pianists and
string players from around the world for an intensive week of chamber music study and performances. To increase new performance opportunities for her UNM students, Ms. Pyle also created a series called UNM Concerts in the Community to bring classical music to non-traditional venues in the state. She continues to teach and perform in Brazil, and recently was a Visiting Professor at Shandong University in Weihai, China.
Ms. Pyle began piano studies with her mother at the age of four and later studied with Patricia Zander at New England Conservatory, Ann Schein at Aspen and Yoheved Kaplinsky, Samuel Sanders and Jonathan Feldman at Juilliard. At these institutions, Ms. Pyle also devoted herself to chamber music under leading exponents Eugene Lehner, Louis Krasner, Joseph Fuchs, Robert Mann and Felix Galimir.
Ms. Pyle's media recordings include CDs on the Albany and Prairie labels and numerous broadcasts, including programs on CBS Sunday Morning, the Charlie Rose Show, CNN, the Martha Stewart Show, National Public Radio, WGBH Boston, WNYC & WQXR New York, and a PBS special on Itzhak Perlman. Coverage of the 2011 Starling-DeLay Symposium on Violin Studies by the online media site violinist.com, quoted N.Y. Philharmonic concertmaster
Glenn Dicterow as saying that Ms. Pyle made the piano "sound like the heart of an angel". In print media, she was featured in Strad magazine in an article about collaborative pianists, which focused on the importance of a balanced partnership in musical collaborations.
She recently concluded her role as the UNM Faculty Senate President, where she had the honor of representing the concerns and interests of the UNM Faculty for an unprecedented four terms.