Dr. Geoffrey Harman
Lecturer I, Director of Athletic Bands, Assistant Director of Bands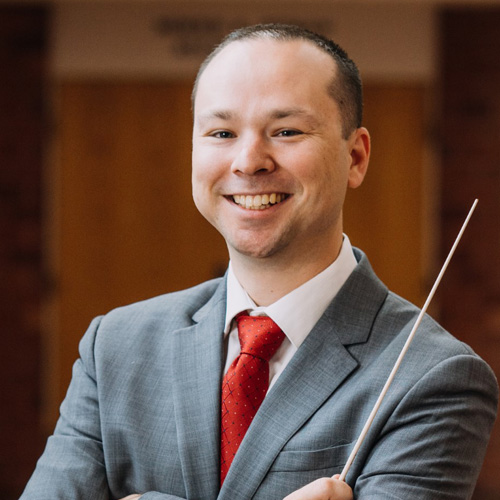 Dr. Geoffrey B. Harman (b. 1986) is the Director of Athletic Bands and Assistant Director of Bands for the University of New Mexico. His responsibilities include directing the Spirit Marching Band and Soundpack Band, teaching marching band techniques, and instructing in other music courses as needed. Prior to completing his Doctorate in Music Education at the University of Oklahoma, Dr. Harman was the Director of Bands for the East Lycoming School District in Hughesville, PA.
Dr. Harman earned his Bachelor of Music Education degree from West Chester University and Master of Music Education from VanderCook College of Music. He credits Dr. Kristen Albert and Dr. Sterling Murray for inspiring his love for higher education. Dr. Harman thanks Dr. Shanti Simon and Dr. Andrew Yozviak helping him to develop his conducting technique.
Within the drum corps world, Dr. Harman has participated with numerous ensembles and taught internationally with Starriders Drum and Bugle Corps in Bad Münder, Germany. Other drum corps experience includes performing with the Crossmen (2006), the Bluecoats (2008), and the Reading Buccaneers (2010), as well as teaching brass with the Bushwackers (2012–2014).
Outside of music, Dr. Harman enjoys hiking and playing ice hockey. He lives in northeast Albuquerque with his girlfriend and hopes to one day have a dog.