Falko Steinbach
Professor of Piano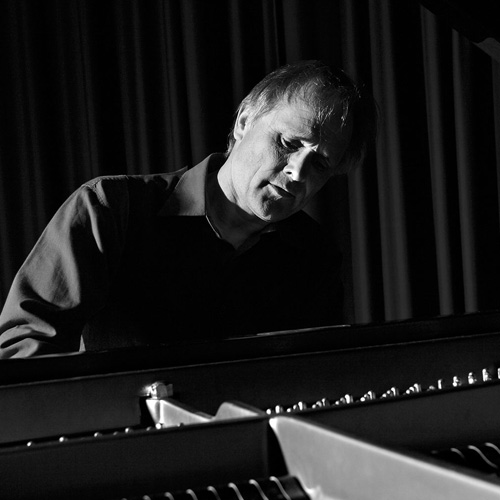 Falko Steinbach
Professor of Piano
Konzertexamen, Musikhochschule, Köln, Germany
falkos@unm.edu
Center for the Arts Room 2102
Raised in Leverkusen/Bergisch Gladbach (Germany), Falko Steinbach has an extended international performance career. He is regularly invited at renowned international music festivals as a soloist and collaborative pianist, for recitals and recordings e.g. in Germany, France, England, Italy, Switzerland, Austria, Bulgaria, Portugal, USA, Mexico, Malaysia, Taiwan.
Prof. Steinbach is a Steinway Artist. He has recorded 16 compact disc recordings with Ambitus, Centaur Records, Antes Edition, Navona Records and the WDR as well as videos and has appeared on German (WDR, NDR) and US radio and television. The proceeds of his CD "Klassik für Menschenrechte" went to the Casa Alianza-Children's Aid of Guatemala produced by Amnesty International/Unesco. The proceeds of his CD "Humanity Classics" with piano concertos from Mozart and Schnittke produced with the "Landschaftsverband Rheinland" went to the home for women with disabilities, Malko Scharkovo in Bulgaria.
Steinbach created more than 50 compositions for chamber music, church music, voice, choir, ensembles and piano. His 53 etudes for piano in 4 volumes and his book "A Compendium of Piano Techniqe" have been published with Verlag Edmund Bieler/Cologne in German and English. The inexhaustible fantasy, his "mesmerizing sound" and his sharp understanding of the possibilities of playing the piano and its physical, spiritual and mental aspects have made Falko Steinbach a worldwide recognized soloist, composer, collaborative pianist and piano pedagogue.
Falko Steinbach's repertory ranges from Bach to contemporary classical music. He has world premiered more than 40 contemporary works, many of which have been dedicated to him. Steinbach received many awards and grants e.g. "Stiftung Kunst und Kultur" from the state of Northrhinewestphalia, DAAD from the German Government and several grants from the University of New Mexico. An extraordinary number of reviews, papers, doctoral dissertations and articles reflect worldwide recognition for his artistic and pedagogic achievements.
Falko Steinbach studied at the Musikhochschule Köln (Konzertexamen – equivalent to DMA) and at the Guildhall School of Music and Drama in London. His teachers were Tatjana Nikolajeva, Peter Feuchtwanger, Tiny Wirtz and Craig Sheppard for piano solo. Steinbach was also a studio/master course collaborative pianist for Dietrich Fischer Dieskau, members of the Amadeus Quartett and Boris Pergamenschikow. He was a Lied – accompanist of mezzosoprano Anne Schwanewilms until 1999.
From 1991 – 1999 Steinbach was founder, chair and artistic coordinator of "Klang Köln". In Brauweiler (Germany) he was Artistic Director of the "Tage Neuer Musik" 2001 and the music festival "Streams" 2010 and 2013 with many worldwide renowned performers and composers (e.g. Mauricio Kagel). In 2009 Falko Steinbach founded the "Internationales Klavierfestival Lindlar" as an annual event.
Steinbach has been head professor of the piano performance program at UNM with a thriving performance studio since 1999, and also teaches piano pedagogy, piano repertory and piano ensemble courses at the university as well.