We would like to invite you to a Book Presentation & Signing event for Dr. Alonso-Minutti's co-edited collection of essays, Experimentalisms in Practice: Music Perspectives in Latin America, published by Oxford University Press earlier this year.
We are very excited to have the extraordinary opportunity to have the two co-editors, Alejandro L. Madrid (Professor, Cornell University), and Eduardo Herrera (Assistant Professor, Rutgers, The State University of New Jersey), also present at the event, as well as a number of contributors who will be in town attending the national meeting of the Society for Ethnomusicology.
After the presentation, please join us for a reception afterwards, sponsored by the Latin American and Iberian Institute.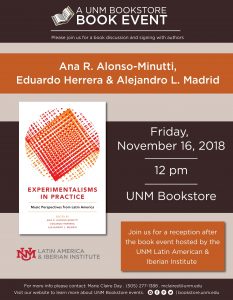 [eventon_slider slider_type='carousel' lan='L1' orderby='ASC' date_out='5' date_in='4 date_range='future' id='slider_3' open_type='originalL' style='b' ef='all']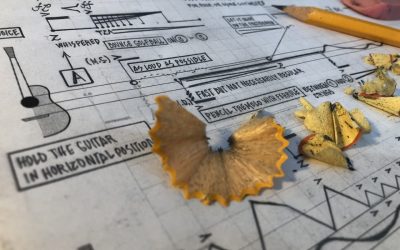 Composer and pianist José Luis Hurtado, an associate professor in The University of New Mexico's Department of Music in the College of Fine Arts, is one of the 2020 winners of the prestigious Guggenheim Fellowship.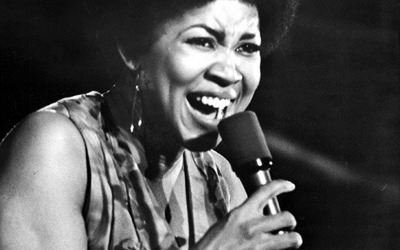 This lecture/performance explores how black women have used music as a method of shaping the public rhetoric and sentiment surrounding the black civil rights struggle in America. Through a historical framework that moves through the height of the abolitionist movement, the Popular front during the 1930s and 1940s, the frontlines of the direct action campaigns of the 1960s, and the proliferation of the Black Power movement in the 1970s.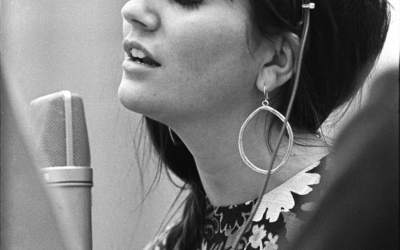 This talk will consider performances and recordings by singer Linda Ronstadt to propose what I refer to as her Americanish musical songbook. The suffix "ish" here intends to accentuate the "somewhat" or "to some extent" of "American" that Ronstadt—Tucson born and raised—lived and sonically imagined through her extraordinary musical career.