Cármelo de los Santos
Associate Professor of Violin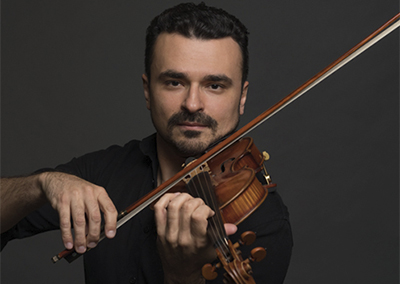 Cármelo de los Santos
Associate Professor of Violin
D.M.A., University of Georgia
carmelo@unm.edu
Center for the Arts Room 2113
Brazilian violinist Cármelo de los Santos was the first prizewinner of the IV "Júlio Cardona" International Competition, held in Covilhã, Portugal, in 2003. He also received the special prize for the best interpretation of the required Portuguese work.
In 2002 Cármelo performed at the prestigious Weill Recital Hall at Carnegie Hall with the ARCO Chamber Orchestra, both as a soloist and conductor.
Cármelo won the first prize at the Music Teachers National Association Collegiate Artist Competition in Cincinnati, Ohio. He came into prominence in 1993 when he won Brazil's most prestigious music competition, the "VII Eldorado Prize", São Paulo. Since then he has appeared as a soloist and as a recital player with major orchestras in Brazil and South America, in the most important halls. Other prizes include the second prize in the "VII Young Artist International Competition" (1991), Argentina, and first prize in the "I Young Talents of MEC Radio Competition" (1996), in Rio de Janeiro.
He has recorded many programs for radio and television in Brazil. In 1994 he made a CD under the Eldorado Radio label which featured Brazilian and other composers of the twentieth century.
Cármelo began his violin studies at the age of nine. He graduated from Rio Grande do Sul Federal University, Brazil, where he worked with Fredi Gerling and Marcello Guerchfeld, and came to America in 1997 to study in New York at the Manhattan School of Music with Sylvia Rosenberg. He holds a doctoral degree from the University of Georgia, having studied there under the Russian violinist Levon Ambartsumian. He is currently Associate Professor of violin at the University of New Mexico, Albuquerque.