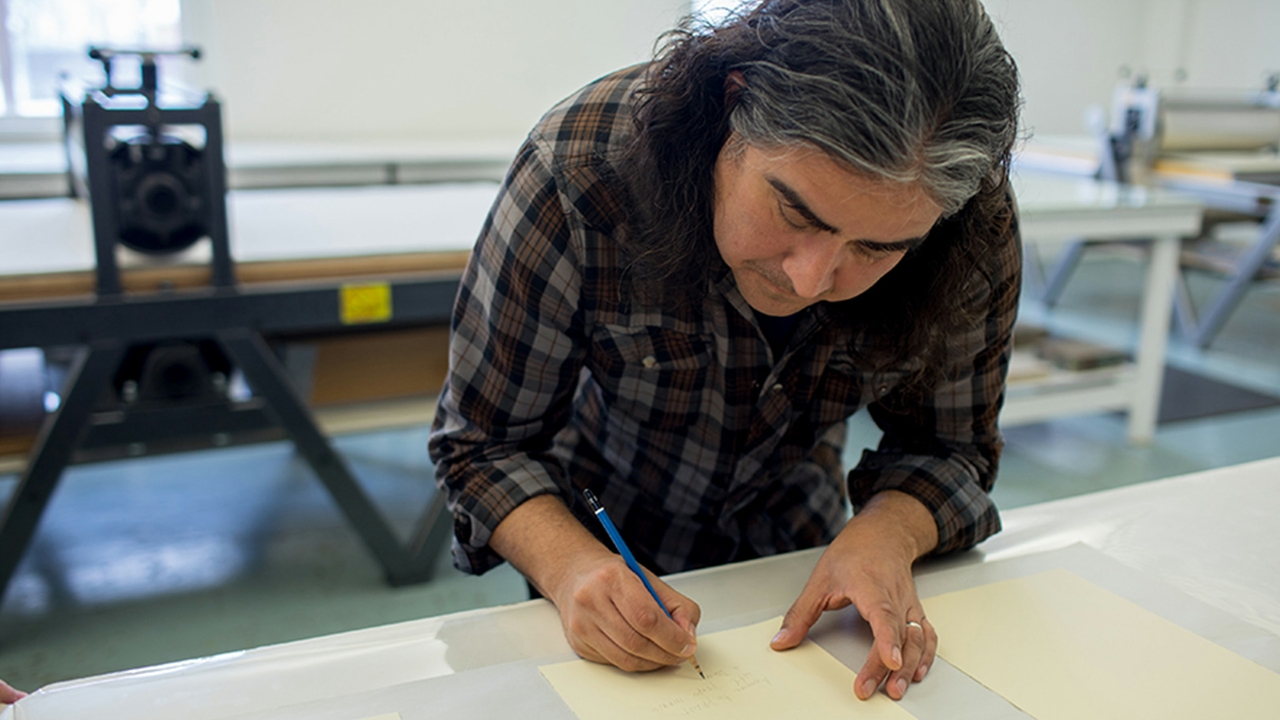 Pulitzer winning alumnus Raven Chacon to debut new composition, perform
Tickets available for performances in Santa Fe, Albuquerque
By Mary Beth King August 11, 2022
Pulitzer Prize winning Diné composer and sound artist Raven Chacon, who earned his Bachelor of Arts degree in music at The University of New Mexico, will debut a new composition in performances and make a rare personal appearance as a performer this month.
Chacon recently won the prestigious Pulitzer Prize for music with his composition Voiceless Mass.
"I'm honored by it. I'm happy to be recognized," Chacon said.
The new composition, Old Song, was commissioned for Chatter ̶ A Chamber Ensemble, which was created in Albuquerque to perform concerts featuring contemporary repertoire and promoting the use of unusual instrumentations. Old Song was written for English horn, bass clarinet, cello, and percussion.
"This will be the world premiere," Chacon said.
Old Song will make a dual premiere this weekend in Santa Fe and Albuquerque. Both performances also include Chacon's compositions (Bury Me) Where The Lightning [Will] Never Find Me and Horse Notations.
The first show, set for Saturday, Aug. 13, will be held at SITE Santa Fe 48's Meyerson Auditorium. Doors open at 10 a.m. Tickets are available online.
The Sunday, Aug. 14 show at 10:30 a.m. will be held at 912 Third, the new home for Chatter located in downtown Albuquerque at 912 Third Street NW. It's rare for a city to have a venue for contemporary classical music, Chacon noted, adding that 912 Third is a spacious venue with a large stage. Tickets are available online.
Chacon himself will perform live in Santa Fe's San Miguel chapel, the oldest church in North America, at the release event for his new album Inhale/Exhale on Sunday, August 21, at 7 p.m. Tickets are available online or donations are taken at the door.
The album is a collaboration between Chacon, who plays guitar and electronic, and his friends, percussionist Tatsuya Nakatani and bassist Carlos Santistevan, and was recorded in the chapel in 2020.
The show will be improvisational.
"We show up, we play," Chacon remarked.
Born in Fort Defiance, Arizona, Chacon grew up in Albuquerque. He first started playing music as a child for three years under the tutelage of piano teacher Dawn Chambers, herself a UNM alum whose own compositions have been performed at the UNM Robb Composers' Symposium.
"She gave us piano lessons as kids for free. That changed my life obviously," he recalled.
From those early musical beginnings, he learned to play the guitar and cello before enrolling at UNM to study music composition. He also credited UNM Distinguished Professor Emeritus Christopher Shultis, who taught composition, and with professor Manny Rettinger, who taught recording and sound art as influences.
"They were huge inspirations and motivators, people who believed in my work and taught me a lot about the field I was going into," Chacon said.
Chacon studied composition with Shultis from 1998 until he graduated in 2001.
"What I remember most vividly of the time we spent together, now more than 20 years ago, is that Raven always knew what he wanted to do and he did it. Whatever it took to realize what he wanted to do, including whatever kinds of preparations needed to be made, he did all that work on his own and brought it to his lessons with me. From when I first met him until now, he has been uncompromising regarding everything he does and with a principled integrity I greatly admire," Shultis said.
Chacon experimented with sounds, "what I call noise music," and calls the type of music he writes "contemporary classical music."
"I still use traditional western musical notation because it is a shared language between people who play music. However, I expanded into further symbols and add my own notations."
Voiceless Mass premiered Nov. 21, 2021, at The Cathedral of St. John the Evangelist, where Chacon received a standing ovation. The large ensemble work was commissioned by Wisconsin Conference of the United Church of Christ, Plymouth Church UCC, and Present Music and composed specifically for the Nichols & Simpson organ at Milwaukee cathedral.
"This work considers the spaces in which we gather, the history of access of these spaces, and the land upon which these buildings sit. Though 'mass' is referenced in the title, the piece contains no audible singing voices, instead using the openness of the large space to intone the constricted intervals of the wind and string instruments. In exploiting the architecture of the cathedral, Voiceless Mass considers the futility of giving voice to the voiceless, when ceding space is never an option for those in power," Chacon told the Pulitzer committee.
The Pulitzer committee called the piece a "mesmerizing, original work for organ and ensemble that evokes the weight of history in a church setting, a concentrated and powerful musical expression with a haunting visceral impact."
Voiceless Mass will be performed for a second time Sept. 30 in Toronto, Canada, on the Second National Day for Truth and Reconciliation.
When he's not penning his own music, Chacon performs, builds his own instruments, and works and improvises with other musicians. He also works with high school students on the Navajo reservation, teaching them to write string quartets through the Native American Composer Apprentice Project.
"All of us in the UNM Department of Music are thrilled for Raven. Personally, I have been intrigued by his work since I met him my first year in Albuquerque in 2013," said Michael Hix, associate professor and interim chair of the UNM Department of Music. "I remember attending an experimental sound-noise music event at a gallery downtown that spring and meeting him after his performance. Beyond being a brilliant artist, he is a warm and friendly individual. It has been fascinating to watch the rapid trajectory of his career, which has included a collaboration with cellist Yo-Yo Ma, major commissions with groups such as a the Kronos Quartet, and now this incredible honor. As the first Native American winner of the Pulitzer Prize in Music, he will inspire future generations of Diné musicians. Likewise, he will serve as a brilliant example to our UNM Music students of the possibilities ahead of them after graduation."
"Raven's extensive collection of work over the last 20 years has taken me to places I've never been before and many experiences I would otherwise never have," Shultis remarked. "Only the greatest artists are capable of that. And all too rarely do those artists get properly acknowledged for their work. In this moment of celebration since Raven received a Pulitzer Prize, what has made the deepest impression on me is how the award acknowledges and honors his creative work and its uncompromising integrity. It is a well-deserved honor and I'm grateful to have had the opportunity to work with Raven in the early beginnings of his life as a creative artist."