Marimba and Percussion Concert
Thursday, October 27
2:00
Keller Hall
Dr. Kenneth Broadway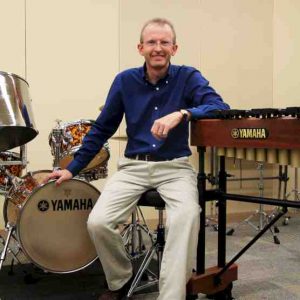 Equally at home behind timpani, steel pan, or the drumset, Dr. Kenneth Broadway has a passion for training the next generation of teachers, performers, and leaders in the field of music. He has served as Director of Percussion Studies at the University of Florida since 1997, and served in similar capacities at the University of South Dakota and Augusta State University. Students from UF have gone on to careers in music education, assistantships at graduate schools throughout the US, college teaching positions, and performance and teaching posts as far off as Scotland and Australia. Ensembles from UF have performed at the Percussive Arts Society International Convention (1998, 2003) and numerous "Day of Percussion" state meetings. Dr. Broadway has performed at Carnegie Hall, the Spoleto Festival, and with symphonies in Florida, Georgia, Iowa, South Carolina, and South Dakota. He has also traveled to Spain and Kenya as part of the World Music Mission, a multi-national network of musicians, writers, worship leaders, engineers and ethno-musicologists. As a performer, composer, and presenter, Dr. Broadway has appeared at various conferences and symposiums throughout North America, Europe and Australia. Among these are the Midwest Clinic, the Percussive Arts Society International Convention, the Symposium of the International Musicological Society, the College Music Society International Convention, the Hawaii International Conference on the Arts and Humanities, the World Saxophone Congress, The Music Educators National Conference, the National Association of College Wind and Percussion Instructors National Conference, and the North American Saxophone Alliance National Conference.
His compact disc with the LYNX Duo (Music for Saxophone and Percussion) is available on the Mark Custom Recording label, and he is featured on other recordings on the Mark and Capstone labels. Dr. Broadway is active in the Percussive Arts Society, the College Music Society, and NACWPI. He is the Past President of the National Association of College Wind and Percussion Instructors (2010-12), and is the Past President of the Florida Chapter (2005-08) and Past President of the South Dakota Chapter (1994-97) of the Percussive Arts Society. He is a Performing Artist for the Yamaha Corporation of America, and educational endorser for Remo Drumheads, Sabian Cymbals and Promark Mallets. Dr. Broadway received the BM, MM, and DMA degrees from the University of Georgia. Check out the University of Florida Percussion Studio on Facebook.
______________________________________________________________
Christopher Wilson
Christopher Wilson is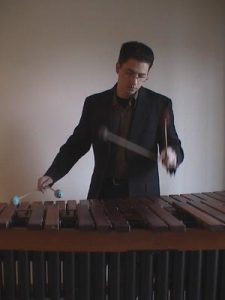 a Doctoral candidate in Percussion Performance at the University of Northern Colorado. Mr. Wilson is a fast-rising artist who has appeared as soloist, chamber musician and clinician throughout the United States.
As a soloist Mr. Wilson has helped to introduce the marimba to public audiences in settings outside of the concert hall. He has also appeared as guest artist at the Western Colorado Percussion Festival, College Music Society conferences, and many collegiate campuses including Monmouth College, University of Wisconsin-Eau Claire, Waldorf College, Iowa State University, and University of Northern Iowa. He is also an active chamber musician, most notably as a member of the Wilson Duo with wife, bassoonist Jacqueline Wilson. The Wilson duo has presented recitals at the 2013 International Double Reed Society Convention, the Ashland Chamber Music Society, and on Wisconsin Public Radio.
Mr. Wilson has been equally active as a writer, clinician and pedagogue. He has had articles published by Percussive Arts Society's Percussive Notes. As an in demand educator, Mr. Wilson has given workshops and assemblies on all areas of percussion at hundreds of K-12 schools throughout the Midwest. He has taught music courses at University of Northern Colorado (as a teaching assistant), Southeast Missouri State University, Laramie County Community College, Lakeland College, and Kirkwood Community College.
As a Doctoral candidate, Mr. Wilson was a Graduate Teaching Assistant to Prof. Gray Barrier. He also studied wind conducting as a student of Dr. Kenneth Singleton. He finished his D.A. coursework in Spring, 2015, and is currently ABD. He is a graduate of the Boston Conservatory and Eastern Washington University. His principal teachers include Gray Barrier, Nancy Zeltsman and Martin Zyskowski. He is a sponsored member of Pearl Drums' Regional Education Arts Program and an endorser of Encore Mallets.
[eventon_slider slider_type='carousel' lan='L1' orderby='ASC' date_out='5' date_in='4 date_range='future' id='slider_3' open_type='originalL' style='b' ef='all']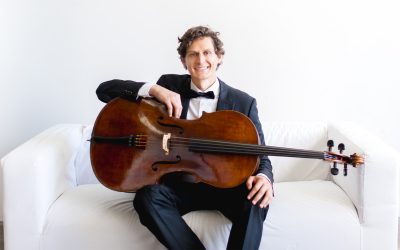 Welcome new Assistant Professor of Cello, Christoph Wagner who makes the strings sing Originally published in the Daily Lobo on August 20, 2023, by Addison Key, Culture Editor at the Daily Lobo ____ Christoph Wagner always wanted to play the cello. Wagner is...