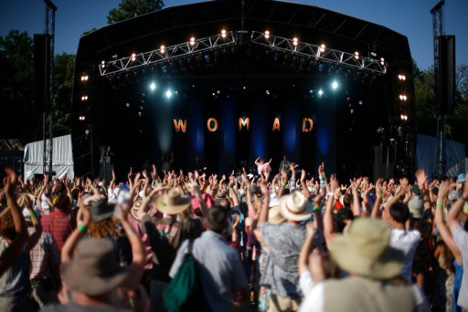 How a Song Bridged Diné and Ndebele Worlds
An anthropologist recounts a magical moment of songwriting collaboration between Diné (Navajo) and Ndebele artists gathered for the WOMAD Festival in South Africa.
By Kristina Jacobsen 
Originally published November 30, 2022, on sapiens.org. Excerpt shared with permission of the author.  Read the full article.
In October, I traveled with the Diné-led jazz and funk trio DDAT from New Mexico to South Africa to perform at the World of Music, Arts, and Dance (WOMAD) Festival. One evening before the festival, we were invited to Grammy Award-winning sound engineer John Lindemann's house in Johannesburg for a listening session. We gathered in his modest home recording studio, created to fly under the radar of apartheid authorities, where Lindemann recorded iconic South African vocal groups such as the Mahotella Queens and Ladysmith Black Mambazo before the end of the system of institutionalized racial segregation in 1994.
As we munched on hot dogs and white bread typical of a South African braai (barbecue), magic entered the storied studio. The simple melodic tune we'd all heard before, "Grandma's Song," had been transformed.
The song's previous version, written and performed by one of DDAT's collaborators, Alex Rose Holiday, had been spare—just a voice and a drum. The song featured Diné (Navajo) language lyrics that spoke of the intergenerational connections between the women in Alex's family, starting with her maternal grandmother (másání in Diné).
A photograph features several people in a room seated in a circle facing and conversing with one another. Electronic piano keyboards and open laptops line the room's walls.
DDAT members and collaborators, including the author (in red), meet in sound engineer John Lindemann's studio to listen to "Grandma's Song."
But in the recording that night, we heard African hand percussion and shakers, followed by the twangy entry of the Brazilian musical bow, the berimbau (all played by producer and WOMAD festival director Dan Chiorboli). The song—filled out with guitar (played by Lindemann), drums (played by DDAT's Nicholas Lucero), bass (played by DDAT's Michael McCluhan), and trumpet (played by DDAT's Delbert Anderson)—gently pulsed with a new, quiet intensity.
Then, about halfway through the song, we heard a second voice join Alex's in the mix. The second singer riffed up and over Alex's sweet, clear voice. And she sang in a language none of us from New Mexico could identify or understand.
A song featuring one Indigenous woman's voice had been joined by another woman's voice from another tribe, across the ocean. What kind of intercultural, intersonic exchange was taking place, and who was this second voice?
"Grandma's Song" had, in fact, begun many years before.
The song, like many of the songs Alex composes and performs as a singer-songwriter, was written en route to a gig. It came to her on a long drive across her home on the Navajo Nation. She then walked into the band DDAT's headquarters in Farmington, New Mexico, and sang it for the trio. They decided to feature it on their upcoming album.
Before the festival, DDAT had sent over some demo recordings to Chiorboli and Lindemann. The idea was that Chiorboli and Lindemann would also include a version of "Grandma's Song" on a new, cross-cultural album featuring voices and sounds from women artists from around the world, including South Africa. The forthcoming compilation album from the musical collective Solidarity Express, titled "Strike a Rock," will address gender-based violence and honor women's resistance to apartheid in South Africa.
This kind of cross-cultural exchange is built into the larger vision for the WOMAD Festival, founded by British musician Peter Gabriel in 1980 to celebrate international artists. As a non-Native ethnomusicologist, anthropologist, and singer-songwriter, I had been invited to play several roles at the festival, including facilitating conversations, recording, performing, and teaching workshops. When I could, I also followed DDAT on their own tour, learning about the cultural exchanges they are activating with other Indigenous artists around the world.