Percussion Recital: Sounds of the Earth
Sunday, October 26, 2015 • 6:30-8:00 PM • Center for the Arts Room 1111
Dr. John Pennington, Professor of Music and Percussion Studies at Augustana University will be performing pieces of his own as well as works by Paul Creston, Isaac Albeniz, J. S. Bach, and Keith Jarrett on instruments that are more traditionally associated with ensemble performance and not solo performance, such as the riq, caxixi, bodhran, gaval, and ganza.
John Pennington is an educator, composer, performer, author,producer and conductor. Dr. Pennington is currently a Professor of Music at Augustana College and is the Artistic Director of the Animas Music Festival in Durango, Colorado. He holds degrees from the University of Michigan, Arizona, and Arizona State. As an Orchestral player Dr. Pennington is currently the Associate Principal Timpanist and Percussionist with the South Dakota Symphony and Principal Timpanist with the Music in the Mountains Music Summer Festival Orchestra. Dr. Pennington is currently a Cultural Envoy for the State Department in the Middle East (Lebanon) where he presented concerts, clinics and master classes. With performances on four continents and over twenty-five states he has performed on Prairie Home Companion and been a featured performer at six Percussive Arts Society International Conventions.
Active as a composer and arranger he has over thirty compositions for soloist, duo, chamber and films and dozens of arrangements for numerous instrumental and vocal combinations. With over thirty recordings to date he has recorded for the Ensemble 21, Summit, Cristo, OCP, and Equilibrium labels. Extensive studies in world music have included experience in African, Middle Eastern, Indonesian, Cuban and the South Indian Karnatak tradition. Recently, Dr. Pennington continues to study the Northern Hindustani traditions of music in Haridwar and Delhi, India and the Javanese and Balinese traditions of Indonesia. Please visit JohnPennington.com for more information.
[eventon_slider slider_type='carousel' lan='L1' orderby='ASC' date_out='5' date_in='4 date_range='future' id='slider_3' open_type='originalL' style='b' ef='all']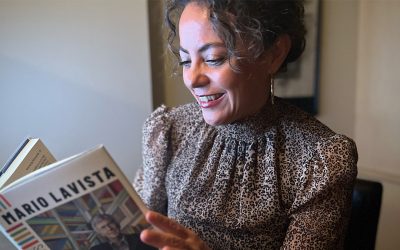 UNM Associate Professor of Music Dr. Ana Alonso-Minutti Releases New Book, Mario Lavista: Mirrors of Sounds, 2023By Lilly Porter, October 30, 2023Dr. Ana Alonso-Minutti's new book, Mario Lavista: Mirrors of Sounds, has just been released by Oxford University...