The Drumset clinic will be held on Friday, February 19th from 10:00 -11:30am in room B-120 in the Center for the Arts Building. Admission is Free.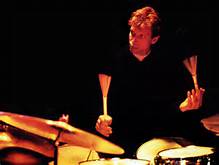 John Riley began playing drums at age eight, after receiving a snare drum as a gift. With the support, encouragement and patience of his parents, John and Mary Ann, he played in the school band and began drum lessons with a good local teacher, Tom Sicola. While under Tom's guidance, he gained control of the snare drum through work on the rudiments and reading. Eventually, he acquired a complete drumset and lessons expanded to include "beats of the day," coordination and reading studies for the drumset. At age twelve, John began playing in rock bands and heard his first jazz recordings, the soundtrack to The Gene Krupa Story and Max Roach's Conversation. Two years later, he played his first "professional" gig, which he obtained through an audition played over the telephone. John began studying with Joe Morello in 1971, after meeting him at a drum symposium. John went on to attend the University of North Texas, where he was introduced to a larger world of music and percussion. While at UNT, he played in, toured, and recorded with the famed One O'clock Lab Band. In 1976, he moved to New York City and was soon called to join the Woody Herman Band. Following that great experience, John returned to New York and began freelancing with a wide spectrum of world class musicians including Stan Getz, Milt Jackson, Miles Davis, Dizzy Gillespie, John Scofield, Bob Mintzer, Gary Peacock, Mike Stern, Joe Lovano, the Vanguard Jazz Orchestra, the Carnegie Hall Jazz Band, John Patitucci, Bob Berg, and many others.
John has a Bachelor of Music degree in jazz education from the University of North Texas and a Master of Music in jazz studies from Manhattan School of Music. He is on the faculty of Manhattan School of Music, and SUNY Purchase, and is an Artist in Residence at Amsterdam Conservatory, Holland. John is also the author of The Arts of Bop Playing, Beyond Bop Drumming, The Jazz Drummer's Workshop, and has taught master classes around the world.
[eventon_slider slider_type='carousel' lan='L1' orderby='ASC' date_out='5' date_in='4 date_range='future' id='slider_3' open_type='originalL' style='b' ef='all']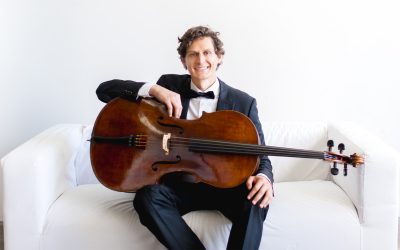 Welcome new Assistant Professor of Cello, Christoph Wagner who makes the strings sing Originally published in the Daily Lobo on August 20, 2023, by Addison Key, Culture Editor at the Daily Lobo ____ Christoph Wagner always wanted to play the cello. Wagner is...