Michael Walker
Assistant Professor of French Horn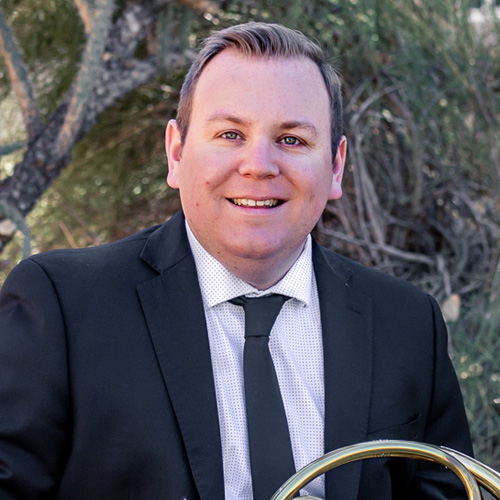 Michael Walker
Assistant Professor of French Horn
D.M., Indiana University
mlwalker@unm.edu
(505)277-2126
Center for the Arts Room 2131
An accomplished young performer and teacher, Michael Walker is re-thinking how classical concerts are performed today.  His performances have taken him to a variety of unique venues such as caves, limestone mills, historic bridges, and most recently a repurposed pasta mill in Southern Italy.  Michael currently serves as the Assistant Professor of Horn at the University of New Mexico, and hornist with the New Mexico Winds, Enchantment Brass Quintet, Fiati Five, and the Amity Trio.
Michael's research explores elements of successful Classical-era musical events that remain very much alive today, including: intimate and comfortable performance spaces, musicians-as-curators of experiences, and variety in instrumentation and programming, made possible by the active participation of living composers.  As a founding member of Fiati Five, the Amity Trio and the Enchantment Brass Quintet Michael harnesses all three of these tenants to create unique and imaginative concerts with each of his chamber ensembles.
As a champion of new music, Michael has commissioned nearly fifteen ten pieces for horn.  Recent composer collaborations include Ryan Chase, Dana Wilson,  Whitney George, Peter Gilbert, Cody Forrest, Eric Nathan, Jason Thorpe Buchanan, Carrie Magin, and Tonia Ko. In 2017, the Enchantment Brass released their debut album celebrating the brass music of native New Mexican Composer John Cheetham. The album, A Brass Menagerie: The Music of John Cheetham, featured two world premiere recordings.
Michael is no stranger to traditional concerts types and orchestras.  Prior to his appointment at UNM he served as the second Horn in the Columbus Indiana Philharmonic, and has performed with the New Mexico Philharmonic, Santa Fe Symphony, Performance Santa Fe,  Opera Southwest, Utah Festival Opera, Bel Canto Institute, Palo Alto Chamber Orchestra, San Jose Wind Symphony, Chatter Music Albuquerque, and as a featured soloist with Musica Nova at the Eastman School of Music.
At the University of New Mexico, Michael maintains a studio of approximately 15 students from across the country. His recent graduates have been accepted to prestigious graduate institutions such as Indiana University, The Manhattan School of Music, and University of Missouri at Kansas City. Additionally, his students have won positions with the Santa Fe Symphony, Lubbock Symphony, and earned a professor position at Washburn University.
Michael holds a BM in Horn Performance from San Jose State University, an MM from the University of Northern Colorado and a DM from Indiana University with a minor in Music History.  Past teachers include Jeff Nelsen, Dale Clevenger, Rick Seraphinoff, Marian Hesse, and Scott Temple.  Michael currently lives in Albuquerque, New Mexico with his opera-singing wife, and daughter.