Maxine Thévenot
Lecturer III, Instructor of Organ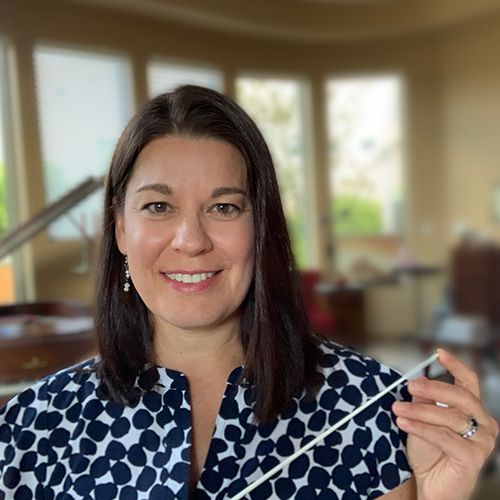 Acclaimed for her "solid musicianship … technical security and poise" by The American Organist, and for her "beautiful registration and flawless playing…another real gem of a recording with ravishing playing" by The Diapason Magazine, Dr. Maxine Thévenot is among the foremost artists of her generation, hailed across North America and Europe for her skillful, musical playing and inventive programming.
Dr. Thévenot's recital career has taken her to many major European venues including the Magdeburger Dom, Germany; the Cathédrale de St. Bénigne, Dijon, France; Church of Santa Rita, Turin; La Verna and Florence, Italy; Westminster Abbey and Westminster Cathedral, UK; Salisbury, St. Paul's and Canterbury Cathedrals, UK; St. George's Chapel, Windsor, UK; la Cathèdrale de Notre Dame, Paris; and to venues across North America including Washington National Cathedral, Washington, D.C.; Saint Thomas Fifth Avenue, New York City; Princeton University Chapel, Princeton, New Jersey; Jack Singer Concert Hall, Calgary; and l'Oratoire de Saint Joseph, Montréal. She has also performed at the music festivals of Bratislava, Budapest, Prague, and Vienna.
In the summer of 2022, Dr. Thévenot will perform as organ soloist as part of the Reuter Organ Festival (June); serve as course director for the Pacific Northwest t Royal School of Church Music in Portland, OR (June/July); be the conductor of the Psalms Festival as part of the National Convention of the American Guild of Organists in Seattle, WA (July); perform an organ solo concert as part of the 100th anniversary of St. Anthony's RC Church in Lake Lenore, SK, Canada (July) and perform two concerts as part of her first appearance on the Organ Summer series at the Hallgrimskirkja, Reykjavik, Iceland.
As a collaborative artist, Dr. Thévenot has given the US and New Mexican premiere performances of numerous large scale works for organ and orchestra including Ottorino Respighi's Suite in G for Organ and Strings with conductor/violinist, David Felberg (2017); Concerto for Organ and Orchestra in C by British composer, Andrew Carter under his direction (2014); U.S. premiere of the Concerto for Organ, Strings, and Timpani by UK composer Philip Moore under his direction (2012); Francis Poulenc's Organ, Timpani, and Strings in g minor with the New Mexico Philharmonic Orchestra with conductor Grant Cooper (2012); U.S. and European premiere performances of Canadian composer Andrew Ager's Concerto for Organ and Orchestra under the baton of Dr. Justin Bischof (2011); Concerto for Organ and Strings by Richard Proulx under the baton of Dr. Julian Wachner at Chicago's Symphony Hall as part of the 2006 National Convention of the American Guild of Organists. She is the dedicatee of organ works written by Andrew Ager, Hayes Biggs, Noel Goëmanne, Robert Lind, Martin Stacey, Philip Moore, and others. She continues to premiere works by living composers.
Dr. Thévenot has been a featured performer and lecturer at national and regional conventions of the American Guild of Organists and the Royal Canadian College of Organists. Winner of the 2000 Canada Bach National Organ Competition, Maxine has also broadcast for the Canadian Broadcasting Corporation, National Public Radio, and Pipedreams.
Recognized for her excellence as a recording artist, Dr. Maxine Thévenot has released 16 well-received CDs on Raven CD. Of her most recent organ solo release, Prairie Sounds, reviewer John L. Speller in The Diapason magazine (July 2021) wrote, "her playing is, as always, excellent." Of her most recent choral recording, Tell of His Love, with the choirs of The Cathedral of St. John, Albuquerque, NM, Marjorie
Johnston of The Association of Anglican Musicians (May/June 2018) praised "…the high quality of each ensemble and artist, the great diversity in its 20 tracks, the concise yet informative liner notes, among other things. There is no dip in quality as the performing forces change from full Cathedral Choir, to Cathedral Chamber Choir, to Select ATB, to either organist, to the excellent Cathedral Choristers."
Appointed Canon Precentor in 2014, Dr. Thévenot currently serves as Director of Cathedral Music and Organist at the Episcopal Cathedral of St. John, Albuquerque where she oversees a program consisting of 4 choirs and is Artistic Director of an extensive community outreach ministry, Friends of Cathedral Music, now in its 28th season. (www.fcmabq.org) Under her direction, the Cathedral Choir and Choristers have sung week-long residencies at Wells Cathedral (2018); a weekend residency at Washington National Cathedral (2016); and week-long residencies at both Winchester Cathedral and Westminster Abbey (2014), having previously sung under her direction in 2010 at Southwark Cathedral, St. Paul's Cathedral, London, and York Minster; and in New York City (2012) singing concerts and services at The Cathedral of the Incarnation, Saint Mary the Virgin, Saint Thomas Fifth Avenue and The Cathedral of St. John the Divine.
Dr. Maxine Thévenot is Founding and Artistic Director of Polyphony: Voices of New Mexico, (www.polyphonynm.com) the state's first professional, resident vocal ensemble, and an adjunct faculty member at the University of New Mexico, where she now teaches pipe organ to those curious. Previously Dr. Thévenot was director of the UNM women's choir, Las Cantantes from 2006-2020. With Las Cantantes she produced and artistically led 3 commercially available recording projects with RavenCD (www.ravencd.com) and toured multiple times to New York City with the ensemble, singing in venues such as Trinity Wall Street, Church of the Heavenly Rest, St. Mary the Virgin (Times square), St. Ignatius Loyola. Carnegie Hall, and others.
A member of the duo Air & Hammers (www.airandhammers.com), she concertizes with her husband, acclaimed English baritone Edmund Connolly (www.edmundconnolly.com), specializing in programs which combine song repertoire from the 19th and 20th centuries with new works by living composers.
In the 2021-2022 season Dr. Thévenot will conduct the New Mexican premiere of Joseph Kraus' Requiem for soloist, chorus, and orchestra; chorus master Beethoven's Ninth Symphony as part of the New Year's Eve concerts at the Lensic Theatre, Santa Fe with Maestro Joe Illick and Polyphony: Voices of New Mexico; chorus master for Santa Fe Pro Musica's performances of F. J. Haydn's Creation with conductor Thomas O'Connor and Polyphony: Voices of New Mexico. She will also conduct the world premiere performance of a work for upper voices by American composer and sound artist, Jenny Olivia Johnson (www.jennyoliviajohnson.com) as well as a new work by Canadian composer, Sarah Quartel (www.sarahquartel.com).
She has previously chorus-mastered Performance Santa Fe's Beethoven's Ninth Symphony performance at the Lensic Theatre (2016); New Mexico Philharmonic Beethoven's Ninth Symphony performance at Popejoy Hall (2014; Musical Director for the New Mexican première of the gonzo opera, Too Much Coffee Man, by Daniel Steven Crafts (2013); chorus master for the New Mexico Philharmonic performances of Brahms' Ein Deutsches Requiem (2013) and the Holiday Pops concerts (2012, 2014) and conducted two performances of Bach's St. John Passion with her ensemble Polyphony: Voices of New Mexico and the NM Philharmonic – the first known complete performances of this work, in German, in Albuquerque (2013). In recent years she has conducted the US and Southwest premieres of significant choral works by Bob Chilcott, James MacMillan, John Rutter, Enrique Granados, and several other premieres.
A published composer with Paraclete Press, her compositions have been described by Classical Music Sentinel: "…Here I am Lord … a composition simultaneously harmonically barren and fertile, reinforces the piece's deceivingly unassuming character, while at the same time revealing its odd beauty. Her compositions include introits, psalms chants, and a setting of the Preces & Responses recently premiered at St. John's College, Cambridge, UK, and subsequently performed across North America and the UK.
A native of Saskatchewan, Canada, Dr. Maxine Thévenot received her bachelor's degree in Music Education from the University of Saskatchewan (with Distinction); and her Master of Music and Doctor of Musical Arts degrees from Manhattan School of Music. At Manhattan School, she was twice awarded the Bronson Ragan Award for 'outstanding ability in organ performance'. Maxine is an Associate of the Royal Canadian College of Organists and the Royal Conservatory of Music, Toronto, and was made an Honorary Fellow of the National College of Music, London, UK in 2006 for her "services to music."