John Marchiando
Associate Professor of Trumpet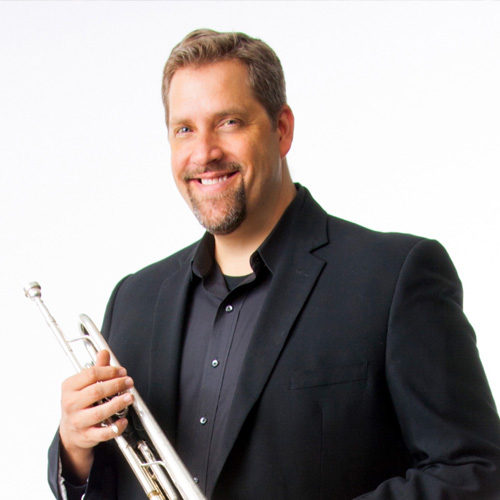 Praised as "one of the finest trumpeters of his generation," John Marchiando currently serves as Associate Professor at the University of New Mexico. Additionally, he performs as Principal Trumpet with the New Mexico Philharmonic, and is a member of the Summit Brass, Enchantment Brass, Tromba Mundi, Fountain City Brass Band, and MarchianDUO. 
Marchiando appeared as Principal Trumpet with the New Mexico Symphony Orchestra from 2006 until its untimely demise in 2011, and has also held positions with the Phoenix Symphony and Arizona Opera. He has performed as Guest Principal Trumpet with The New American Sinfonietta, Tucson Symphony Orchestra, and Santa Fe Symphony, and has appeared with many other notable ensembles, such as the Santa Fe Opera, Santa Fe Chamber Music, Chatter 20-21, Santa Fe New Music, and the Figueroa Music and Arts Project.
A committed music educator, Marchiando has given master classes and clinics worldwide, including at renowned institutions such as the National Trumpet Competition, International Trumpet Guild Conference, Thailand Brass and Percussion Conference, and the Rafael Méndez Brass Institute He has served as adjudicator for the National Trumpet Competition, International Trumpet Guild Solo Competition, International Women's Brass Conference Solo Competition, and for state competitions and festivals in New Mexico and Arizona. John also appears regularly as a clinician at high schools across the southwest, and is a S.E. Shires/ Eastman Music featured clinician. Previously, Dr. Marchiando held positions on the faculties of the University of Toledo and Arizona State University.
 "The standards and work ethic instilled in me as a member of Dr. Marchiando's studio at UNM allowed me to thrive as a musician in the United States Army and beyond . John's consummate musicianship, beautiful sound, and meticulous attention to detail will forever influence my playing and teaching. His passion for his students and the trumpet are truly contagious and are a continuous source of inspiration."
 –Dr. Joseph Gray, Associate Director of Bands, Professor of Trumpet, University of Northern Alabama, Florence, AL
 Active as a soloist, John has performed with ensembles across the globe, including appearances with the Summit Brass, Denver Municipal Band, New Mexico Philharmonic, United States Navy Band, Santa Fe Symphony, Albuquerque Concert Band, and the Atlantic Brass Band, and he has performed recitals and solos at the International Trumpet Guild Conference, Rafael Méndez Brass Institute, Thailand Brass and Percussion Conference, International Trumpet Festival at West Chester University, National Trumpet Competition, CBDNA National Conference, and at universities and high schools worldwide. 
Marchiando can be heard on his most recent recording, The Non-Articulation Agreement with Tromba Mundi, and other recordings include A Brass Menagerie: The Music of John Cheetham with the Enchantment Brass, and Arrows of Time with the University of New Mexico Wind Symphony, which features premier recordings for solo trumpet and band by James Stephenson and Joseph Turrin. As a music producer, John has worked on several ventures for the Summit Records label by the Summit Brass and the University of New Mexico Wind Symphony. 
John received degrees from the University of Michigan (B.M. '92, M.M. '95) and completed his Doctor of Musical Arts degree at Arizona State University in 2004. His dissertation, The Rafael Méndez Online Library (http://mendezlibrary.asu.edu), is the official website of the Rafael Méndez Library housed at Arizona State. Dr. Marchiando's primary mentors include David Hickman, Armando Ghitalla, Charles Daval, Raymond Mase, Chris Gekker and Ramon Parcells. John Marchiando is a S.E. Shires performing artist and clinician.