Christian Newman
Temp Part-time Faculty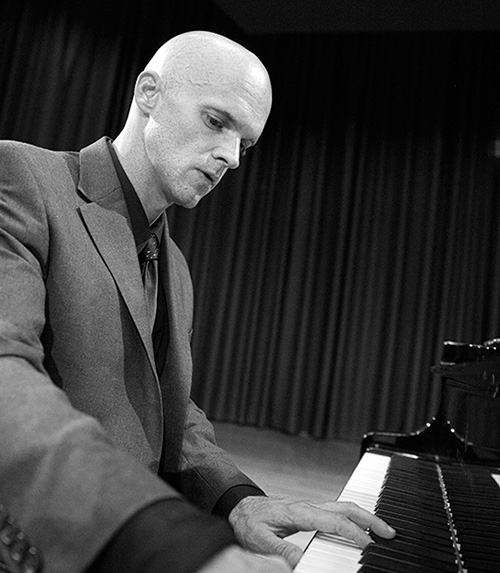 Christian M. Newman (1981-) is a composer, pianist, percussionist, author, and music educator based in Albuquerque, New Mexico. An autodidactic learner since childhood, he absorbed a myriad of stylistic influences on several instruments, which he continues to reflect in his instrumental compositions for percussion, electronics, and piano.
From a tumultuous youthful period during which he was briefly homeless and absent from mandated schooling, Newman first embarked on a brief career as a rock drummer in his teens before he enrolled at UNM during his early 20s. During his collegiate career, he attended numerous international master courses, including the "Musik Aktiv", "Lebendige Musikerziehung", and "Fit for Music" courses, and Internationales Klavierfestival Lindlar, in the northern regions of Germany, where he earned certificates in piano performance, physiology of music performance, and advanced piano technique and pedagogy based on works by Peter Feuchtwanger, Franz Liszt, Johannes Brahms, and Falko Steinbach. He has since earned a bachelor's and two masters degrees in piano performance and composition, and has taught courses on piano technique, Trinity College of London Music Theory curriculum, American academic theory and composition, music and dance, music appreciation, and general musicianship skills at the Klavierfestival Lindlar, Albuquerque Institute of Music, Central New Mexico Community College, DATA Charter High School, and University of New Mexico. He has authored a host of course materials, handbooks, tutorials, and several complete textbooks, in the fields of music theory, and music history.
His musical output consists of twelve EPs of electro-acoustic music, nearly two dozen solo works for piano in a highly elaborate and dense style, chamber works for duos and small ensembles, percussion ensembles, graphic score experimental works, and several works for wind symphony. His original music and live performance style evokes a strong "hyperkinetic rhythm" (Weekly Alibi) coupled with a "light and detailed virtuosity" (Bergische Landeszeitung), and a unique "depth and warmth" for slower works (Oberberg-Aktuel).
Some noted performances of his works have been given by The Low Frequency Trio (Mexico), Emanuelle Arciuli (Italy), New Music New Mexico (USA), Fernando Cardoso (Brazil), Anna Mall (USA), The Alma Chamber Ensemble (Brazil), and Jonathon Warburton (UK) at numerous festivals including the JD Robb Composer Symposium (Albuquerque, NM), Wolf Tones Electronic Music Festival (Abq, NM), Titwrench Stockholm (Stockholm, Sweden), Klavierfestival Lindlar, (Köln, Germany), and Sommerkonzerte, St. Marien Kürten (Kürten, Germany).
You can stream his music, and learn more about Newman's work at https://newmanmediagallery.com, and https://christian-m-newman.bandcamp.com.