Ashley Kelly, D.M.A.
Lecturer II, Saxophone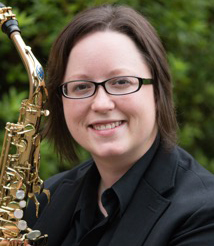 Ashley Kelly
D.M.A, Louisiana State University
Lecturer II, saxophone
Ashley Kelly joined the faculty of The University of New Mexico in 2016. She teaches courses in saxophone performance, saxophone chamber music, and music appreciation. In addition to her career in higher education, she also specializes in saxophone instruction for pre-college students.
Dr. Kelly has enjoyed notable performances with the New Mexico Philharmonic, Santa Fe Pro Musica, Baton Rouge Symphony Orchestra and, most recently, the Santa Fe Opera, where she participated in the premiere of the Grammy award-winning contemporary opera, The (R)evolution of Steve Jobs. She has performed as a soloist at both national and regional NASA conferences, as well as at the 2018 World Saxophone Congress in Zagreb, Croatia.
Her research interests include, but are not limited to, early saxophone pedagogy, new works by female composers, and the advancement of research within the saxophone world. Her dissertation, The Saxophone Symposium: An Index of the Journal of the North American Saxophone Alliance, 1976-2014, was cited at the 2016 NASA Biennial Conference and is the first index of its kind for The Saxophone Symposium.
She received a Doctorate of Musical Arts from Louisiana State University, where she served as the graduate teaching assistant to Dr. Griffin Campbell. She also earned a Master of Music degree in saxophone performance from the University of New Mexico and a Bachelor of Music degree in music education and saxophone performance from the University of Montevallo in her home state of Alabama.