Adolfo Estrada
Musicology Post-Doctoral Fellow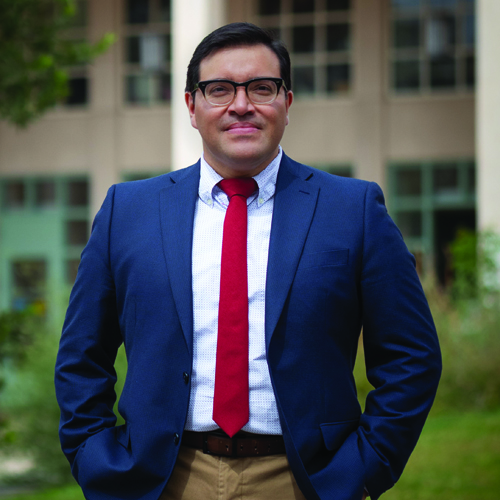 Adolfo Estrada
Ph.D., Fine Arts-Musicology, Texas Tech University, Lubbock
Musicology Post-Doctoral Fellow
Room: Hokona Hall/Zuni 309
Curriculum Vitae

Adolfo Estrada is the University of New Mexico's Inclusive Excellence Post-Doctoral and Visiting Scholars Program Post-Doctoral fellow in the Department of Music. His research focuses on historical and contemporary mariachi performance practice. Utilizing Victor Turner's notion of communitas, his dissertation, "Ritual and Meaning in the Mariachi Festival Movement of the United States," explores communitas and the liminal spaces within various components of the U.S. mariachi festival movement. Adolfo Estrada has presented his original research at multiple national conferences, including the Society for Ethnomusicology, the Society for American Musicology, and the American Musicological Society. Most recently, he served as a model for the 2022 USPS Mariachi Forever® stamp series. 
As a Latin American music specialist, his primary geo-cultural expertise is in Mexico and its diasporic communities throughout Latin America and the United States. Musical performance is a central component of his research and teaching. As an avid performer on guitar, he has played with mariachi ensembles in Mexico and the United States. For the past twenty years, he has had the opportunity to study classical guitar and mariachi guitar with prominent guitarists. For mariachi, he has studied with Rigoberto Alfaro (Mariachi Vargas de Tecalitlán, also a renowned arranger who has written for famous singers like José Alfredo Jiménez, Joan Sebastian, Rocío Dúrcal, Vicente Fernández), Rafael Palomar (Mariachi Vargas de Tecalitlán), and Jesús "Chuy" Hernández (Mariachi Sol de México® de José Hernández). His classical guitar studies were under the direction of Peter Terry Muska and Matthias Lang. 
Adolfo has received numerous invitations to perform as a guitarist and vocalist for concerts and studio recording sessions with professional mariachi ensembles. Notable performances include the 2013 Inaugural Ceremonies for the U.S. President in Washington D.C., the performance of the Houston Grand Opera's commissioned work "Cruzar La Cara De La Luna," the 2015 world premiere of the Chicago Lyric mariachi opera "El Pasado Nunca Se Termina," and appearances on the Tonight Show and the Stephen Colbert Show. Professional mariachi accompaniment of note include Plácido Domingo, Flor Silvestre, Vikki Carr, Little Joe, Nydia Rojas, Virginia Tola, Azucena, and Pablo Montero. In 2010, he had the opportunity to perform with Mariachi Vargas de Tecalitlán for a significant concert performance. (Mariachi Vargas was founded in 1897 and is currently in its sixth generation; their official title is "El Mejor Mariachi del Mundo." Within the mariachi community, he is known as an expert in the mariachi armonía section, which functions similarly to the continuo section of the baroque ensemble comprising classical guitar, vihuela, guitarra de golpe, arpa, and guitarrón). Since 2002, Adolfo has been continually invited to give masterclasses at various mariachi workshops in the United States and Mexico. As a music instructor, he focuses on skill-building healthy playing techniques by interweaving listening exercises, music theory, and learning standard mariachi repertoire. He also maintains a guitar studio, giving private instruction to beginners and advanced students. Several of his students have successfully auditioned into major professional mariachi ensembles. 
Additionally, he serves as an adjudicator and clinician for mariachi festivals and competitions throughout California, Arizona, New Mexico, and Texas. Before joining the UNM faculty, he was a lecturer, teaching courses in Latin American musics, and directed the mariachi ensembles at Texas Tech University and Texas State University. Adolfo Estrada holds a B.A. in Mexican American Studies with a minor in music from the University of Texas-Pan American and an MM in Ethnomusicology from the University of Texas Rio Grande Valley, where he was also a member of UTRGV's premier Mariachi Aztlán. He earned his Ph.D. in Fine Arts in Musicology from Texas Tech University in 2022.