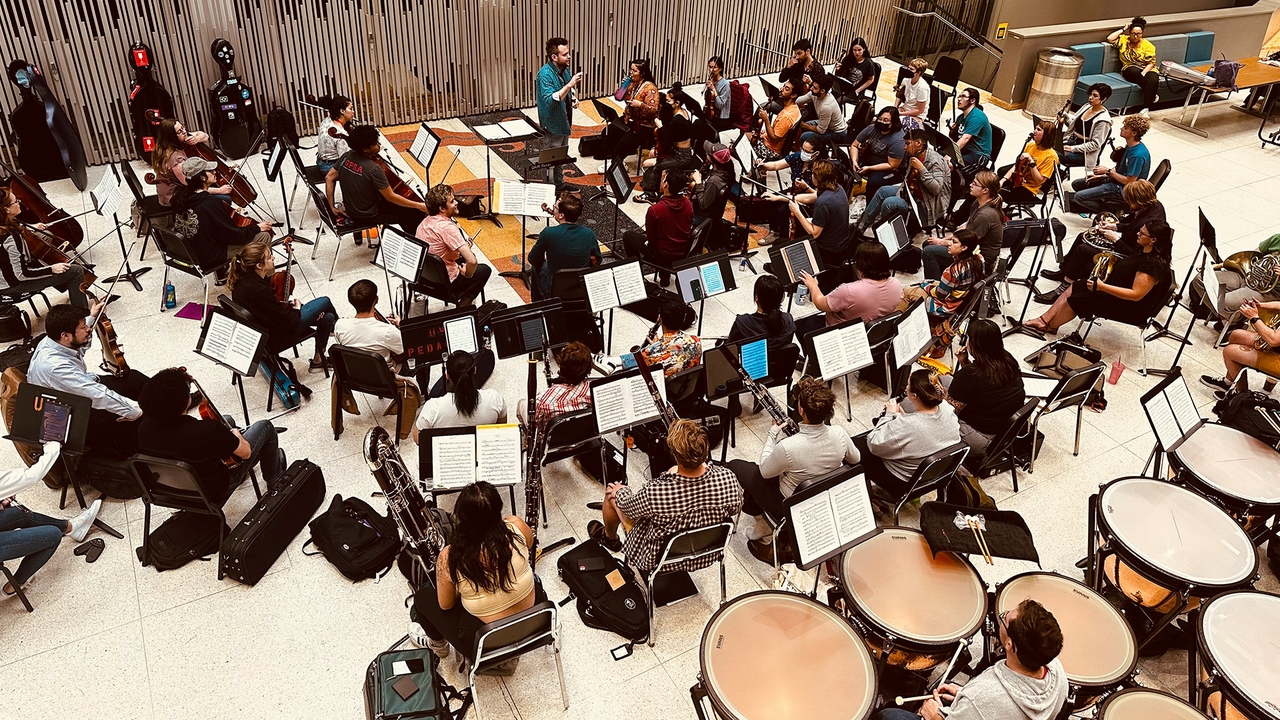 UUNMSO to perform Stravinsky's 'Rite of Spring'
Free concert held May 4 at Cleveland High School in Rio Rancho
Spring is here and what better way to usher it in than to hear composer Igor Stravinsky's Rite of Spring, also known as Le Sacre du printemps. The University of New Mexico Symphony Orchestra will perform the composition Thursday, May 4, at 7:30 p.m. at Cleveland High School concert hall in Rio Rancho. The event is free and no ticket is required.
Concert Poster
This concert features two works, said conductor Matthew Forte, director of Orchestral Studies in the UNM Department of Music.
"The 80 musicians of the UNMSO are almost entirely students, primarily music majors, evenly divided between grad students and undergrads, but also talented non-music-majors, too," Forte explained.
He promises an excellent show: "This piece is, simply put, an experience. It is one of the most riveting works of art I know and tends to take on a life of its own in any performance, progressing inexorably toward one of the most thrilling conclusions in the history of music. I am sure any audience member who chooses to attend will experience a truly exciting evening!"
The performance opens with the New Mexico premiere of a work by composer Jessie Montgomery. Montgomery is widely recognized as a pioneering composer.
"As a young woman of color, she has continually broken down longstanding and unfortunate barriers to participation in the classical music world and is commonly accepted to be one of the most important composers of her generation," Forte said. "This short, intense work — Overture — was given a world premiere by the Chicago Symphony just last year. The piece packs a real punch, and in working on it, the students and I are continually reminded that we are engaging with a living musical voice of incredible artistic quality and deep historical significance."
The second work is The Rite of Spring by Stravinsky. One of the most iconic pieces in the history of music, Stravinsky's Rite of Spring is a seminal ballet, premiered in 1913, which traces the life of a tribe in neolithic Russia as it welcomes the season of spring through a complex and lengthy ritual, ultimately culminating in an act of human sacrifice. Though often performed with dancers, it is most commonly performed, as it will be by the UNM orchestra, as a purely concert work.
"The Rite famously caused a riot at its premiere, because of its advanced and avant-garde choreography, its intense and difficult plot, and its incredibly modern, rhythmic, and forward-looking music. Indeed, its notorious premiere is commonly cited to represent the boundary between the romanticism of the 19th century and the modernism of the 20th," Forte said. "It still represents one of the supreme challenges for any orchestra with its intricacy, demands on players' technique, and above all rhythmic complexity. It is one of the hardest things an orchestra is asked to do. The students of the UNM Symphony Orchestra have truly risen to the occasion in practicing and rehearsing this incredibly challenging and important work and the performance promises to be thrilling. We hope that as many people as possible can make the trek to Rio Rancho to witness this important and exciting event.
"I chose this particular piece to perform primarily because of the growth and excellence of the orchestra in the past two years, since we resumed in-person rehearsals post-covid and because they deserve, as individuals and as a group, the notoriety that tackling this monster of a piece entails. The students of the UNMSO have worked so hard to make this orchestra one of the best collegiate orchestras in the southwest, and to do a piece like this Stravinsky allows the students to engage with an incredible, important, and exciting work of art, and also to showcase the considerable growth of our ensemble in the past few years. I am proud of them, and this concert recognizes their work and allows them to engage with a work that is not only seminal but allows them to show off our progress as a musical team."