Flutist Camilla Hoitenga will be in town and on campus from Thursday, October 22nd to Monday, the 26th. She will be working with the flute students, composition students, coach the NMNM flutist on a piece by Saariaho, and work with composition professor Karola Obermueller on her flute solo piece for a studio recording for the upcoming WERGO portrait CD.
Camilla Hoitenga is at home on stages all over the world, performing in venues as diverse as Carnegie Hall in New York, the Royal Festival Hall in London, the Kremlin in Moskow and the Forbidden City in Beijing, China, playing not only the C-flute but also the alto, bass, and piccolo flute and other varieties of her instrument.
In addition to her intensive collaborations with Saariaho, Köszeghy and Stockhausen, she has had pieces dedicated to her by wide range of composers, including Donnacha Dennehy, Christopher Fox, Miyuki Ito, Anne LeBaron, Arvydas Malcys, Michele Rusconi, Oliver Schneller, Helena Tulve, Jovanka Trbojevic, Andreas Wagner, and Bryan Wolf.
[eventon_slider slider_type='carousel' lan='L1' orderby='ASC' date_out='5' date_in='4 date_range='future' id='slider_3' open_type='originalL' style='b' ef='all']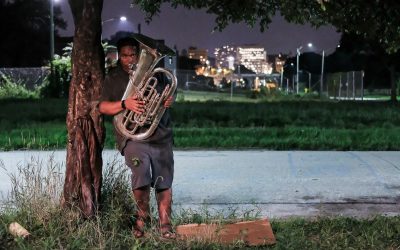 A Story of Survival, a Tuba, and the Small Miracle of a Big Dream By Jayla Acosta From the streets of Baltimore, Maryland to the campus of The University of New Mexico in Albuquerque, Associate Professor, Dr. Richard White (R.A.W. Tuba) continues to make headlines....