Megan Holland
Director of String Pedagogy
B.M., Cleveland Institute of Music
M.M., University of Southern California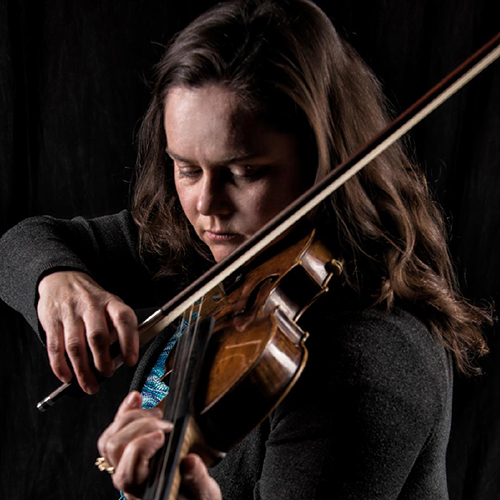 Megan Holland

Director of String Pedagogy
B.M., Cleveland Institute of Music
M.M., University of Southern California
meholland@unm.edu
Originally from Albuquerque, Megan Holland began studying the violin at age four with Susan Kempter, nationally renowned pedagogue, author, and Suzuki teacher trainer. She later studied privately with Leonard Felberg, former Professor of Violin at the University of New Mexico, concertmaster of the Santa Fe Symphony, and violinist of the Seraphin Trio. She received her Suzuki teacher training from Susan Kempter. She received a Bachelor of Music from the Cleveland Institute of Music studying with David Updegraff. She received a Master of Music degree and an Advanced Studies diploma under the tutelage of Robert Lipsett at the University of Southern California. She has received Suzuki training for all 10 books and is registered with the Suzuki Association of the Americas.
Megan has performed throughout the United States, Mexico, Canada, Germany, and the Netherlands. Reviewers have characterized her performances as "poised" and "powerful". Here in New Mexico, she has also appeared as a soloist with the New Mexico Symphony Orchestra, the Santa Fe Pro Musica orchestra, Chatter, and the Albuquerque Philharmonic.
Currently, Megan is the Director of String Pedagogy at the University of New Mexico and is the Suzuki violin teacher at The Montessori Elementary School. She is an active performer in the Albuquerque and Santa Fe area. She performs regularly with Chatter, Albuquerque Chamber Soloists, and holds the position of Principal Second Violin of the Santa Fe Pro Musica Orchestra. She also maintains a full private violin studio. When she's not teaching or playing the violin, Megan loves to knit and spin yarn. She has three cats, two kids, and more fish and snails that one can count.