Santiago Vaquera-Vásquez

Date:
Thursday, September 28th, 2017
Time and Location:
2:00-3:30pm, Waters Room, Zimmerman Library
Lecture Title:
Imagining Something Better: Punk, Tejano, La Bamba, and Other Rolas from My Border Hi-Fi
Description:
With a focus on narrative soundscapes from borderlands communities, this presentation reflects on the ways that music —in particular, Chicana/o punk— can examine complicity, entanglement and compromise in relation to nation, identity, migration and globalization.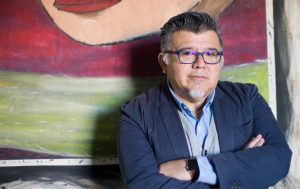 Unrepentant border crosser, writer, ex-dj, and academic. Santiago Vaquera-Vásquez is an Associate Professor of US Southwestern Literatures, and Creative Writing in the Department of Spanish, and Portuguese at the University of New Mexico. Has lectured and taught at universities across the United States, Latin America, and Europe. Author of four collections of short stories, Algún día te cuento las cosas que he visto (2012), Luego el silencio (2014), One Day I'll Tell You the Things I've Seen (2015), and En el Lost 'n Found (2016). His academic work focuses on US Latino cultural expression, and US/Mexico border cultures.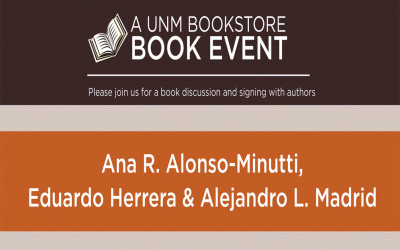 A Book Presentation & Signing event for Dr. Alonso-Minutti co-edited collection of essays, Experimentalisms in Practice: Music Perspectives in Latin America, published by Oxford University Press earlier this year, at the UNM Bookstore.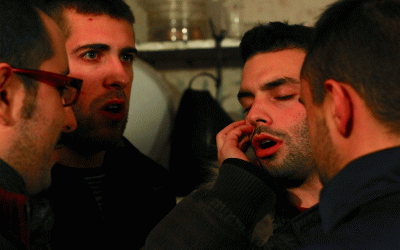 Sas Bator Colonnas is a multipart singing group from the Scano di Montiferro, a mountainous region in central Sardinia, Italy. Antioco Milia, Antonio Carboni, Stefano Desogos and Francesco Fodde started singing together in 2002, carrying on the vernacularmultipart singing practice, one of the most representative cultural forms of their village and their island, which is performed by four male singers and called cuncordu.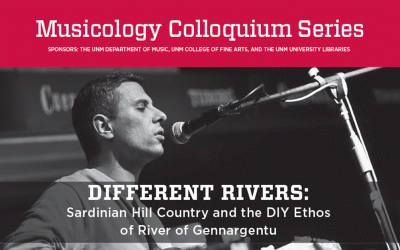 In the summer of 2014, the Bluesman "River of Gennargentu" released, on his SoundCloud page, three songs of hill country blues, sung in English and played with a technique like those of historical Delta blues artists, recorded in low-quality sound. Within a few months, the web page collected dozens of comments from users who were amazed by this new "discovery" and demanded the real artist's origin, as-yet-not-specified.