On March 23rd and 24th, UNM Music Professors Kristina Jacobsen (Ethnomusicology; former President, Society for Ethnomusicology, Southwest Chapter) and David Bashwiner (Music Theory; outgoing President, Rocky Mountain Society for Music Theory) traveled with Musicology and Music Theory graduate students Regan Homeyer, Renata Yazzie and Matthew Stanley to present their original research at the regional Rocky Mountain Scholars' Conference in Tucson, Arizona, hosted by the University of Arizona's Department of Music. The very successful student papers given were:
Matthew Stanley (Music Theory), "Toward Metric Stability: The Interplay of Hemiola, Syncopation, and Meter in Brahms' Violin Sonata No. 1 in G Major, Op. 78"
Regan Homeyer (Musicology), "Sounding the Nile: Hamza El Din as 'Ethnographic Ear'"
Renata Yazzie (Musicology/Piano Performance), "Indigenizing Art Music: An Analysis of Connor Chee's Navajo Vocables for Piano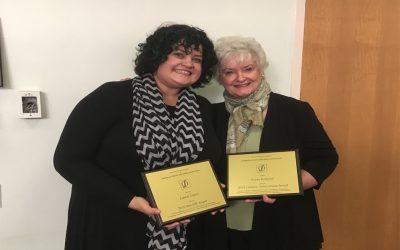 Susan Kempter and Laurie Lopez were recognized by the New Mexico chapter of the American String Teachers Association earlier this year.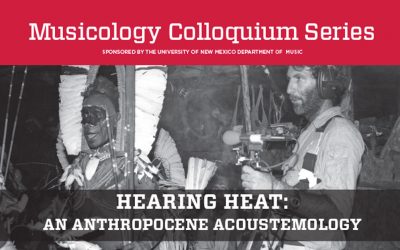 Bruno Latour argues that even if poisoned, the anthropocene is a deep gift to human research, inciting new approaches to environmental responsibility. Taking up Latour's challenge through acoustemology, the study of sound as a way of knowing, this talk engages histories of hearing heat that affectively entangle cicadas and humans in Papua New Guinea, Japan, and Greece.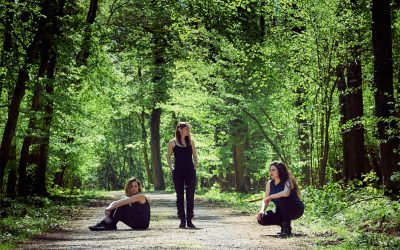 Music from the Americas presents "New Music from Mexico," featuring world premieres by Juan José Bárcenas, David Hernández-Ramos, José-Luis Hurtado, Victor Ibarra and Rodrigo Valdez-Hermoso. Works will be performed by the Ensemble Vertebrae featuring Oliva Abreu, flute, Ana Paolina Hasslacher, piano and Camille Emaille, percussion.