On March 23rd and 24th, UNM Music Professors Kristina Jacobsen (Ethnomusicology; former President, Society for Ethnomusicology, Southwest Chapter) and David Bashwiner (Music Theory; outgoing President, Rocky Mountain Society for Music Theory) traveled with Musicology and Music Theory graduate students Regan Homeyer, Renata Yazzie and Matthew Stanley to present their original research at the regional Rocky Mountain Scholars' Conference in Tucson, Arizona, hosted by the University of Arizona's Department of Music. The very successful student papers given were:
Matthew Stanley (Music Theory), "Toward Metric Stability: The Interplay of Hemiola, Syncopation, and Meter in Brahms' Violin Sonata No. 1 in G Major, Op. 78"
Regan Homeyer (Musicology), "Sounding the Nile: Hamza El Din as 'Ethnographic Ear'"
Renata Yazzie (Musicology/Piano Performance), "Indigenizing Art Music: An Analysis of Connor Chee's Navajo Vocables for Piano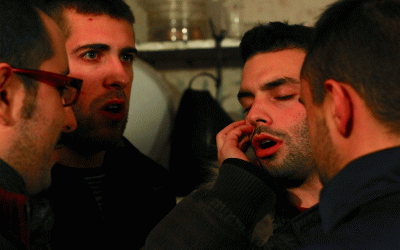 Sas Bator Colonnas is a multipart singing group from the Scano di Montiferro, a mountainous region in central Sardinia, Italy. Antioco Milia, Antonio Carboni, Stefano Desogos and Francesco Fodde started singing together in 2002, carrying on the vernacularmultipart singing practice, one of the most representative cultural forms of their village and their island, which is performed by four male singers and called cuncordu.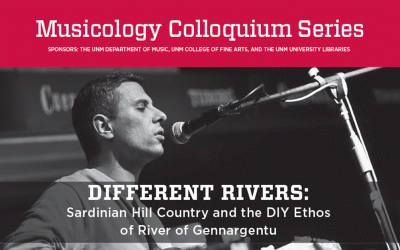 In the summer of 2014, the Bluesman "River of Gennargentu" released, on his SoundCloud page, three songs of hill country blues, sung in English and played with a technique like those of historical Delta blues artists, recorded in low-quality sound. Within a few months, the web page collected dozens of comments from users who were amazed by this new "discovery" and demanded the real artist's origin, as-yet-not-specified.
Perspectives from the US Southwest and Latin America featuring performances by J.D. Robb Trust. This symposium consists of an initial roundtable centered on decolonizing strategies in ethnomusicology followed by two shorter sessions: the first focusing on decolonizing pedagogies and the second on performance and activism.