On March 23rd and 24th, UNM Music Professors Kristina Jacobsen (Ethnomusicology; former President, Society for Ethnomusicology, Southwest Chapter) and David Bashwiner (Music Theory; outgoing President, Rocky Mountain Society for Music Theory) traveled with Musicology and Music Theory graduate students Regan Homeyer, Renata Yazzie and Matthew Stanley to present their original research at the regional Rocky Mountain Scholars' Conference in Tucson, Arizona, hosted by the University of Arizona's Department of Music. The very successful student papers given were:
Matthew Stanley (Music Theory), "Toward Metric Stability: The Interplay of Hemiola, Syncopation, and Meter in Brahms' Violin Sonata No. 1 in G Major, Op. 78"
Regan Homeyer (Musicology), "Sounding the Nile: Hamza El Din as 'Ethnographic Ear'"
Renata Yazzie (Musicology/Piano Performance), "Indigenizing Art Music: An Analysis of Connor Chee's Navajo Vocables for Piano
No events available.
The UNM Honky Tonk Ensemble, an ensemble that teaches students how to play in a band and that emphasizes the style of classic country music from the '50s, '60s and '70s, to come into KUNM's Studio A to do a studio session of songs they've performed over the course of the semester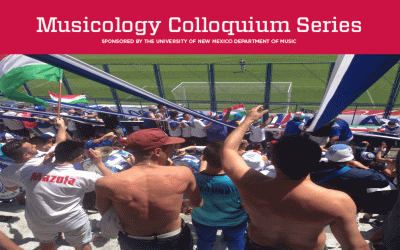 Argentine soccer fandom involves a nuanced set of bodily practices and a vast repertoire of chants based on radio hits and broadcast advertisement. This talk demonstrates how chanting brings together sounds and bodies in an affective public practice that incites intense feelings of social cohesion and belonging meaningful beyond what is being said with words.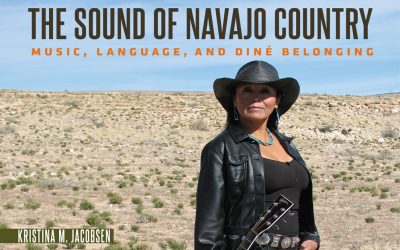 Dr. Kristina Jacobsen, Assistant Professor of Ethnomusicology in the UNM Department of Music, is awarded the 2018 Woody Guthrie Book Award for the most outstanding book in popular music by the International Association for the Study of Popular Music (IASPM-U.S.).