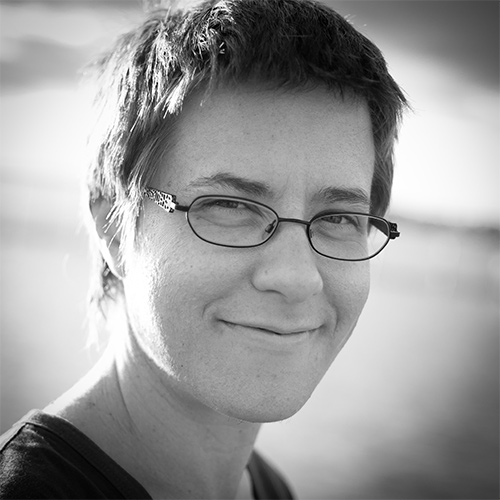 Karola Obermueller
Ph.D., Harvard University
Assistant Professor of Theory & Composition
kaob@unm.edu
(505)277-2126
Center for the Arts Room B408
Karola Obermueller's composing, described by the New York Times as "hyperkinetic music", is constantly in search of the unknown, often with layers and layers of obscured material buried deep underneath a surface which is at times sumptuous and at times crackling with rhythmic energy.
In recent years, Karola Obermueller's composing has divided time between the concert hall and the stage. She has written operas for Staatstheater Nürnberg, Theater Bielefeld, the Musik der Jahrhunderte festival in Stuttgart and a collaborative opera for Theater Bonn funded by an Ernst von Siemens Music Foundation Grant.
In that same span she has had commissions from the National Endowment for the Arts, the Fromm Music Foundation, Ensemble Modern, the International Contemporary Ensemble, Nouvel Ensemble Moderne, the Frankfurter Bachkonzerte, the Bayerischer Rundfunk, Saarländischer Rundfunk, the IPPNW Congress Nürnberg, the Elisenquartet, and Ensemble Phorminx. Having been selected for the WERGO Contemporary Music Edition by the German Music Council, a portrait CD of hers is in progress and will be released in the near future.
Among Obermüller's numerous recognitions was the inclusion as one of three artists featured in the book: "…denn Kunst meint ja immer ein Sich-Preisgeben" by Charlotte Martin. She also has awards from ASCAP, the New York Musicians Club Prize, the Darmstädter Musikpreis, and the Bavarian Youth Prize for Composition (awarded by Zubin Mehta). She was a guest artist at ZKM (Center for Art and Media Karlsruhe) and a fellow at Akademie Schloss Solitude (Stuttgart, Germany), IRCAM (Paris), and Centro Tedesco di studi Veneziani (Venice, Italy) as well as serving as a composer in residence for new music festivals at the Hochschule für Musik Nürnberg and the Conservatorio Piccinni di Bari.
She holds a PhD from Harvard University as well as degrees from the Hochschule für Musik Saar, the University Mozarteum Salzburg, and the Meistersinger-Konservatorium Nürnberg. After teaching at Wellesley College, Obermueller joined the composition faculty at the University of New Mexico in 2010 where she helps direct the composition area and is a co-director of the John Donald Robb Composers' Symposium.
You can find her at http://karolaobermueller.net/