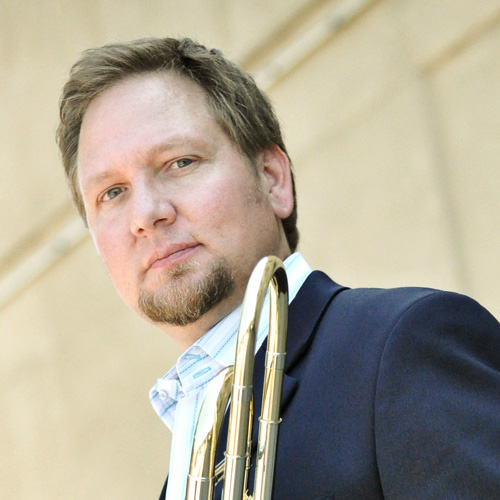 Christopher Buckholz
D.M.A., University of Michigan
Assistant Professor of Trombone
cbuckholz@unm.edu
(505)277-2126
Center for the Arts Room 2122
"Buckholz's performances are full of energy and life, and the substantial technical challenges in these pieces are handled masterfully…He phrases beautifully, keeping the intensity of the line while never crossing into trite sentimentality. The interesting repertoire, musicianship, and the exciting, soloistic nature of the playing on this CD make it very worthy of a listen." Frank Gazda, International Trombone Association Journal
"Buckholz's compositions and performances on this album are outstanding and merit a thorough listening by trombonists and musicians of all disciplines." International Trombone Association Journal
"Christopher Buckholz was smooth as silk on trombone" Cincinnati Inquirer
Chris Buckholz is a virtuoso crossover artist in both classical music and jazz. He is Assistant Professor of Trombone at the University of New Mexico. Prior to coming to UNM in 2013, he was Associate Professor of Trombone at the University of Northern Iowa. In 2010, Buckholz became the first applied faculty member at the University of Northern Iowa to win a university-wide teaching prize: the Outstanding Teaching Award for tenure-track faculty.
Buckholz has three solo CDs to his credit, including the groundbreaking 2015 double album Versatility. He is the first trombonist to have released both a classical and a jazz solo CD. His publications include new editions of early twentieth century trombone literature and the rediscovery of Frederick Innes's 1880 work for trombone and band, "The Sea-Shells Waltz".
From 1997 to 2005, Buckholz was the lead trombonist for the Army Jazz Ambassadors in Washington, D.C.. As a principal soloist with the Jazz Ambassadors, Buckholz was featured in concerts with the Boston Pops at Tanglewood and on the Esplanade, the Detroit Symphony Orchestra, the National Symphony Orchestra at the Kennedy Center, the Pittsburgh Symphony Orchestra, the Baltimore Symphony Orchestra, and the Cincinnati Pops at Carnegie Hall. Buckholz is featured as a soloist on four Jazz Ambassadors CDs.
Buckholz has had an extensive freelance career, performing with Natalie Cole, Tony Bennett, Lou Rawls, Bob Hope, Charley Pride, Smokey Robinson, Johnny Mathis, Vince Gill, and Rosemary Clooney, among many others. He has played on hundreds of studio recordings. Buckholz toured internationally and recorded with The Four Tops, and performed with the Baltimore Symphony Orchestra. He is a Yamaha Performing Artist.
In addition to his work as a performer, Dr. Buckholz has been an active clinician, lecturing and performing at schools such as New York University, the University of Colorado, the University of North Carolina School of the Arts, the University of Maryland, the New Orleans Center for the Creative Arts, and the High School for the Visual and Performing Arts in Houston, TX. He has also presented at the Eastern Trombone Workshop in Washington, D.C., the Big 12 Trombone Conference in Lubbock, TX, and the Festival Mestres dos Sopros in Fortaleza, Brazil.
Dr. Buckholz received his Bachelor of Arts degree from Wake Forest University, his Masters of Music from Yale University, and the Doctor of Musical Arts from the University of Michigan. His principal teachers in classical music include Arnold Jacobs (Chicago Symphony Orchestra), Dennis Smith (Los Angeles Philharmonic), John Swallow (New York Brass Quintet), David Langlitz (Metropolitan Opera Orchestra), and Christopher Dudley (Baltimore Symphony Orchestra). He has studied jazz trombone with Conrad Herwig, Curtis Fuller, Steve Davis, Steve Turre, and Jim McFalls, and jazz arranging with Michael Crotty.