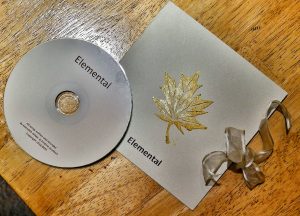 Dr. Kristina Jacobsen releases a new album of co-writes with UNM Music Alunmi, Meredith Wilder. They will be performing two shows for the CD release of  "Elemental."
March 30th, 2018
CD Release Show with Meredith Wilder for new album, "Elemental," at Bookworks at 7:00pm
4022 Rio Grand Blvd, NW, Albuquerque, NM
with Special Guest Camille Grey (Copenhagen, Denmark)
$15
March 31st, 2018
CD Release and Fundraiser for "Songs from the Rez," with Meredith Wilder for new album, "Elemental," at Tortuga Gallery at 7:30pm
901 Edith Blvd SE, Albuquerque, NM
with Special Guest Chucki Begay and Ritchi Anderson, Jr. (Navajo Nation)
UNM Center for the Arts & Art Museum, Albuquerque, NM 87106

Wed, apr 25, 2018 6:00PM 7:30PM

Featuring the students of Dr. Michael Walker.

UNM Center for the Arts & Art Museum, Albuquerque, NM 87106

Thu, apr 26, 2018 6:00PM 7:30PM

UNM Center for the Arts & Art Museum, Albuquerque, NM 87106

Fri, apr 27, 2018 4:00PM 5:30PM

UNM Center for the Arts & Art Museum, Albuquerque, NM 87106

Fri, apr 27, 2018 6:00PM 7:30PM

Featuring the students of Eric Lau and Ashley Kelly.

UNM Center for the Arts & Art Museum, Albuquerque, NM 87106

Fri, apr 27, 2018 8:00PM 9:30PM

Featuring students studying in the Lab School under the direction of the UNM Pedagogy Intern Teachers.

UNM Center for the Arts & Art Museum, Albuquerque, NM 87106

Sat, apr 28, 2018 12:00PM 1:30PM

UNM Center for the Arts & Art Museum, Albuquerque, NM 87106

Sat, apr 28, 2018 6:00PM 7:30PM

An evening of marvelous musical homage to great English choral composers, spanning five centuries of wondrous music! Henry Purcell, Thomas Tallis, Ralph Vaughan-Williams, and George Frideric Handel (who spent most of his career in England) are represented in this concert filled with sonic splendor! Conducted by Dr. Kristin Ditlow and John Yuan featuring the New Mexico School of Music Orchestra, Jackson and Cleveland Middle School Orchestra and the UNM Chamber Singers. Tickets: www.nmphil.o...

315 Coal Ave SW, Albuquerque, NM 87102

Sat, apr 28, 2018 6:00PM 8:00PM

Tickets available at www.nmphil.org

UNM Center for the Arts & Art Museum, Albuquerque, NM 87106

Sun, apr 29, 2018 2:00PM 3:30PM

UNM Center for the Arts & Art Museum, Albuquerque, NM 87106

Sun, apr 29, 2018 4:00PM 5:30PM

UNM Center for the Arts & Art Museum, Albuquerque, NM 87106

Sun, apr 29, 2018 6:00PM 7:30PM

UNM Center for the Arts & Art Museum, Albuquerque, NM 87106

Sun, apr 29, 2018 8:00PM 9:30PM

Directed by Dr. Regina Carlow.

UNM Center for the Arts & Art Museum, Albuquerque, NM 87106

Mon, apr 30, 2018 5:00PM 6:30PM

Directed by Eric Rombach-Kendall. Featuring Horn Professor Michael Walker and Composer Dana Wilson. Program will also include works by Williams, Moravec and Sousa.

UNM Center for the Arts & Art Museum, Albuquerque, NM 87106

Mon, apr 30, 2018 7:30PM 9:00PM

Directed by Dr. Chad Simons.

UNM Center for the Arts & Art Museum, Albuquerque, NM, 87106

Wed, may 2, 2018 7:30PM 9:00PM

UNM Jazz Combos will be playing at Hotel Andaluz. 125 2nd st NW Albuquerque, NM 87102

125 Second Street NW, Albuquerque, NM 87102

Wed, may 2, 2018 8:00PM 9:30PM

Featuring the students of Valerie Potter.

UNM Center for the Arts & Art Museum, Albuquerque, NM 87106

Thu, may 3, 2018 3:00PM 4:30PM

University Chorus and Symphony Orchestra

University Chorus, Concert Choir and Symphony Orchestra presents Brahms' Ein Deutsches Requim. Juan Hernández, Chorus Master and Dr. Jorge Pérez-Gómez, conductor.  

UNM Center for the Arts & Art Museum, Albuquerque, NM, 87106

Thu, may 3, 2018 7:30PM 9:00PM

Directed by Dr. Maxine Thévenot.

208 Grant Ave, Santa Fe, NM 87501

Fri, may 4, 2018 5:30PM 7:00PM

Featuring the performance of original works by students studying Composition and Theory.

Fri, may 4, 2018 7:30PM 9:00PM

Students will perform music from the Middle Ages & Renaissance on period instruments. Colleen Sheinberg, director.

UNM Center for the Arts & Art Museum, Albuquerque, NM 87106

Sat, may 5, 2018 7:30PM 9:00PM

Featuring the students of Professor Leslie Umphrey.

UNM Center for the Arts & Art Museum, Albuquerque, NM 87106

Sun, may 6, 2018 4:00PM 5:30PM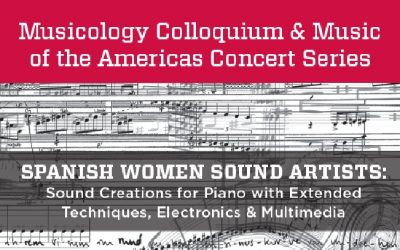 Apr 3, 2018
In the contemporary music scene of Spain female composers are shaping the experimental horizon of the country with sound creations and experimentations with traditional instruments.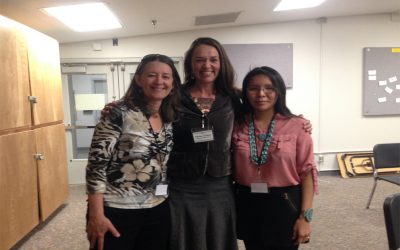 Apr 3, 2018
Matthew Stanley, Regan Homeyer and Renata Yazzie present their original research at the Regional Rocky Mountain Scholars' Conference at the University of Arizona's Department of Music in Tuscan, Arizona.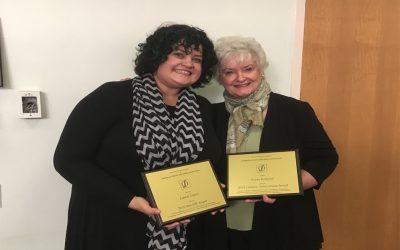 Mar 21, 2018
Susan Kempter and Laurie Lopez were recognized by the New Mexico chapter of the American String Teachers Association earlier this year.