On April 22nd, KUNM Music Director invited this semester's members of the UNM Honky Tonk Ensemble, an ensemble that teaches students how to play in a band and that emphasizes the style of classic country music from the '50s, '60s and '70s, to come into KUNM's Studio A to do a studio session of songs they've performed over the course of the semester. Students and community members in the Ensemble performed their songs, and then did an interview, afterward, together with ensemble founder and co-facilitator, UNM Music faculty member Dr. Kristina Jacobsen. Here, they discussed their experiences learning to more deeply appreciate this genre of working-class verbal art through the performance of it, describing their experiences learning to sing, and play, in a "country" style throughout the course of the semester." This show will be featured in hour-long broadcast on KUNM's "Ear to the Ground" on Saturday 5/11 from 7-8 pm, and will be streamable through on their two-week archive after it airs, as well as on the KUNM Studio Sessions page. This semester's ensemble includes: Seirra McDowell-Nardine, Nathan Lesiak, Aubrie Powell, Eric Schaller, and co-facilitator Alex McMahon. The Ensemble is open to UNM students, staff, and Albuquerque musicians, and begins again in August 2019. Please contact Kristina Jacobsen (kmj23@unm.edu) or Paula Corbin-Swalin (pcswalin@unm.edu) for more information.
No events available.
No events available.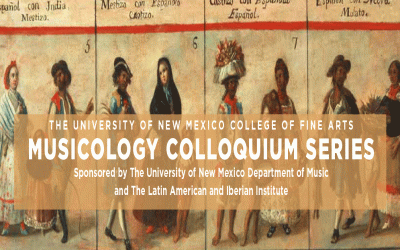 In New Spain, an institutional structure of merit and promotion hinged on the idea of reason as an intrinsically European attribute. This attribute differentiated 'Europeans' from people of mixed race claiming European status based on their skin complexion.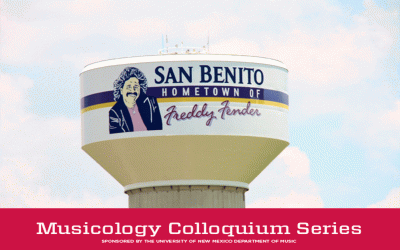 The Texas border town of San Benito is the subject of this talk which examines how memory and legacy operate within a community of "self-appointed" cultural brokers and a local municipality inspired by capitalist notions of urban development, economic growth and cultural tourism.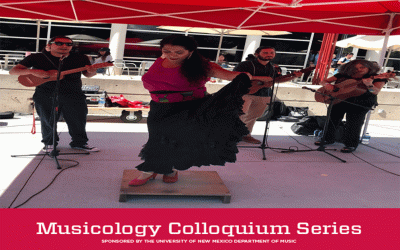 Son Jarocho is a genre of traditional Mexican music performed in southern Veracruz that has gained prominence in Chicanx communities in the United States. In this talk we will analyze the origins, rhythms, musical forms, and dances both in Mexico and the United States.